A smart home is not complete without a smart thermostat. In fact, I believe that a smart thermostat is the most important part of your smart home. It can have the most noticeable effect on your comfort and your energy bill.
If you're looking for a Z Wave thermostat, then you have come to the right place. I have compiled a thorough list that will help you find what you're looking for. And, if you're not quite sure if a Z Wave thermostat IS what you're looking for, I'll do my best to explain exactly what a Z Wave thermostat is and who it's for.
>>>Best Overall – GoControl Thermostat
>>>Next Best – Alarm.com Smart Thermostat
What Is A Z Wave Thermostat?
A Z Wave thermostat is a thermostat that communicates wirelessly using the Z Wave protocol. If this is your first Z Wave product, you should know that it will require a Z Wave controller to function properly.
If you already have other Z Wave products in your home, it will act as another node in your home automation web. And, if your automation hub links to the internet, you will be able to control your thermostat from anywhere with an internet connection.
All Z Wave thermostats will you allow you to adjust and monitor the temperature of your home for both heating and cooling. Some models are equipped with humidity sensors to monitor the relative humidity in your home as well. It can also communicate with other home devices through your controller to set up advanced, or "smart", control options.
What's The Z Wave Protocol?
The Z Wave protocol is a method for wireless communication between home automation devices. It is a set of standardized commands that make it easier for a wide range of devices to communicate with each other. WiFi is an example of another protocol. For a more technical explanation, visit here.
The latest version of Z Wave is Z Wave Plus. It uses less power and is more secure than the original Z Wave.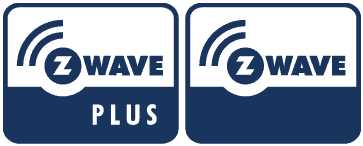 Why Would I Want Z Wave?
Z Wave was created so that different brands and different types of products can "talk" to each other in a common language. That way, you can buy an automation controller from company A, a thermostat from company B, and a motion sensor from company C and they will all work together seamlessly.
The Z Wave technology operates at a lower frequency than many other wireless devices. This will reduce the threat of interference with other wireless devices. Less interference means signals can travel farther with less power and be more reliable.
Without getting too technical, the lower frequency means that the wavelength of the signal will be longer. This is good because longer wavelength signals are better at traveling through walls and other obstacles you might encounter in your home.
Devices using Z Wave can be operated in a low-power "standby" mode. This allows battery-powered devices to maintain connectivity and still have a long battery life.
The network of devices operates as a "mesh" network. Each plugged in device in the network acts as a range extender (in order to save power, battery-powered devices are designed to not have this functionality). This means that as you add more devices, the network gets stronger and more reliable.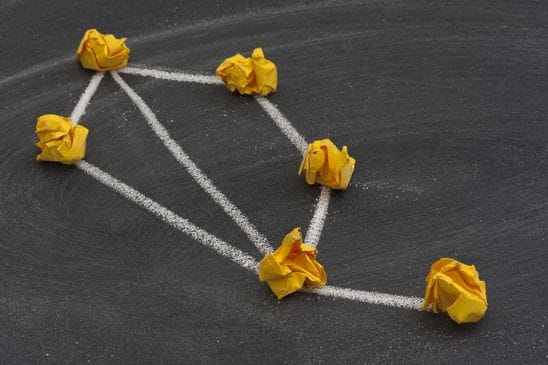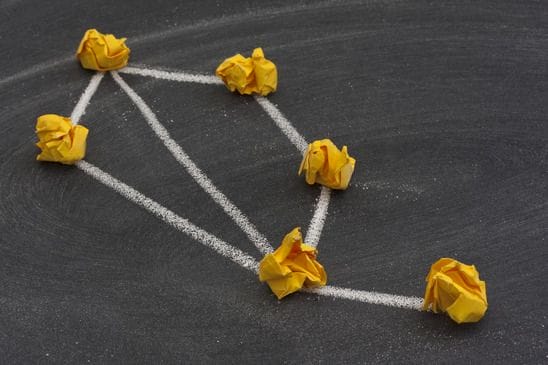 FAQ: Is A Z Wave Thermostat Right For Me?
Here is a list of questions that may help you decide if a Z Wave thermostat is right for you:
Q: Do I currently have a home automation hub that is Z Wave compatible?
A: You will only be able to get the full functionality of your thermostat if you have a compatible hub. After all, what fun would it be if you don't have the ability to control all your stuff from anywhere in the world?
Q: Do I have other Z Wave devices?
A: If you already have a network of Z Wave compatible products, you probably want to keep expanding your Z Wave web and make sure your thermostat is speaking the same language.
Q: How many home automation devices would I eventually like to have?
A: If you would like to fill your home with smart lights and switches and speakers and whatever other wonderful devices someone might invent, then there is a great benefit to having Z Wave. The network gets stronger and more reliable with more devices. Compare that to something like WIFI which gets congested and begins to slow down with many devices.
Q: Do I have a large home or many obstacles?
A: In a Z Wave network, each individual component acts as a range extender. This allows a Z Wave network to have greater ranges and to "bend" around obstacles. Also, the lower operating frequency of Z Wave performs better than WiFi or Zigbee when passing through walls.
Q: I don't think Z Wave is right for me. What do I do now?
A: Building a Z Wave home automation network takes some technical skills and that's not for everyone. If you're looking for something that you just plug in and it works, no problem! Most WiFi thermostats work like that. The best ones are quite a bit more expensive, but there are some good cheaper choices too.
---
If you're looking to buy a Z Wave thermostat, you're probably not looking for fancy features and frills. If you wanted that, you would buy a WiFi thermostat.
You are probably just looking for a reliable thermostat that will do as its told. The GoControl thermostat is a popular choice for a simple but effective thermostat.
By itself, the thermostat doesn't do much, but that's by design. It has a very simple LCD screen with limited information. It isn't programmable and it doesn't monitor humidity. But, none of that should be a problem if you plan on hooking it up to your Z Wave controller.
If you don't have a c-wire (what's a c-wire?)and intend to use batteries to power your thermostat, this one will do alright. It can run up to 2 years on 4 AA batteries. The battery compartment is located on the front of the thermostat so that you don't have to take it off the wall to replace the batteries. If you do connect it to power, DO NOT install batteries as it can damage the thermostat.
The only strike against it is it lacks Z Wave Plus.
GoControl Thermostat | Check Price
---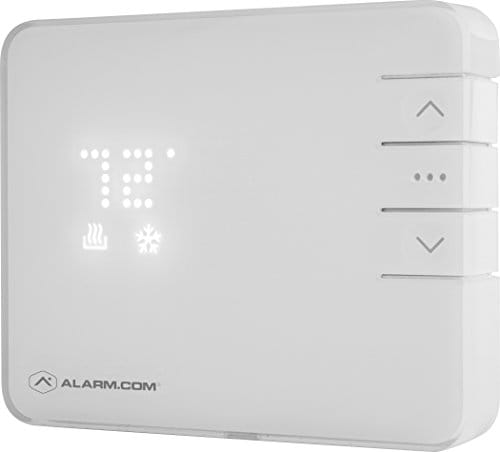 If you're looking for a more modern, sleek looking, and all-around great thermostat, the Alarm.com Smart Thermostat fits the bill. The dotted temperature display looks similar to the Zen Thermostat by SwannOne and that's a good thing.
It's a bit more expensive than the GoControl, but it uses the latest Z Wave Plus specifications and can function with or without a battery. With Z Wave Plus, battery life can be expected to be up to 50% longer and range up to 67% more.
This thermostat will work with any Z Wave hub, but if you have an alarm.com account, you get some added features. The Alarm.com system will provide a simple software interface for scheduling and will automatically configure your thermostat for optimal battery life.
Alarm.com Smart Thermostat | Check Price
---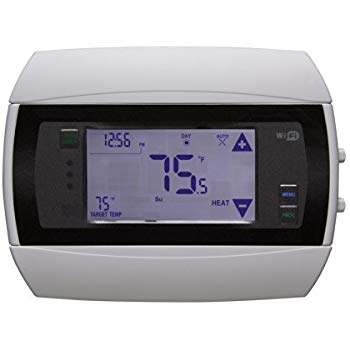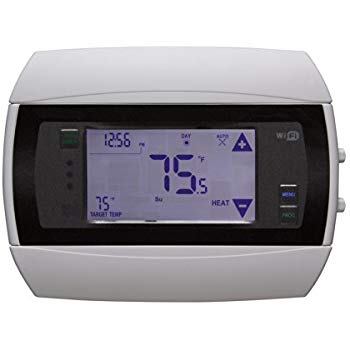 Radio Thermostat makes…yup, you guessed it, radio thermostats. It's the only thing they do, so as you might also guess, they are pretty good at it.
One feature that really makes the Radio Thermostats stand out is the wireless module is interchangeable. This model comes with a WiFi module installed, but it is possible to switch out the module for a Z Wave Plus module. However, you will have to purchase the Z Wave Plus module separately.
They actually had about 5 different models that were fairly similar, but recently they seem to have discontinued most of them. I waded through the details to find the model with the most amount of features for the least amount of money.
The Radio Thermostat CT50 is a 7-day programmable thermostat. It can be run on batteries, but as usual, I recommend avoiding that if possible. It supports all major HVAC systems with 2 stages for heating and 2 stages for cooling.
Radio Thermostat CT50 | Check Price
---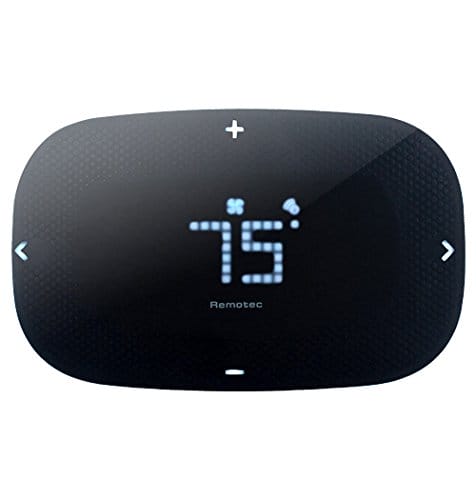 The Remotec ZTS-500 looks like a really nice product. However, it's still fairly new and not "battle tested" in my opinion. I think it may find itself at the top of this list in the near future. It has all the latest Z Wave features including Z Wave Plus and AES128 encrypted secure communication.
Most Z Wave thermostats are fairly conventional looking, but this one looks a little more modern. It has a black face with round corners that kind of makes it look like the latest ecobee thermostats.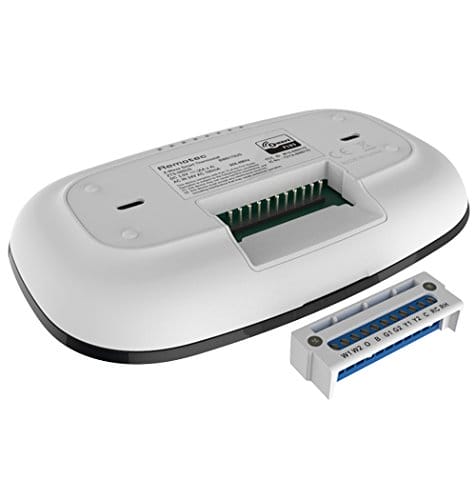 In order to provide for maximum ease of installation, the terminals you connect the wires to are detachable from the thermostat.
For those of you without a c-wire, it offers a reasonable battery powered alternative. It has Z Wave Plus so it uses less power than the old standard Z Wave. You can expect 4 AA batteries to power the ZTS-500 for about a year.
Like most Z Wave thermostats, it's not programmable. That means all scheduling and "smart" stuff will be handled by your Z Wave controller.
---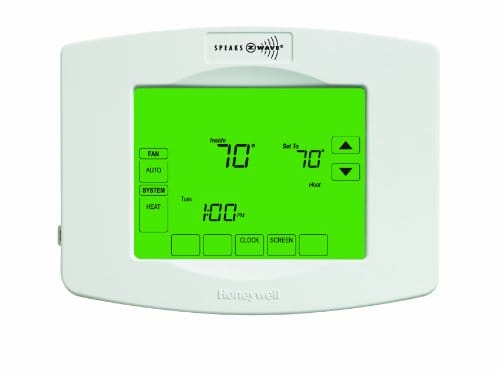 Honeywell is a well-respected name in the thermostat business. They generally make some really nice thermostats.
The Honeywell YTH8320ZW1007/U is a popular offering that has been around for awhile. The thermostat proudly displays the Z Wave logo right above the large backlit touchscreen display. It works for the standard 5 wire setup and for heat pumps. It does not have a battery option so it won't work if you don't have a c-wire. However, it does come with an add-a-wire adapter if you are currently without a c-wire.
In case you don't plan on using the Z Wave capability right away, this unit can be used as a standalone programmable thermostat. Programmable mode lets you set up a 7-day schedule with up to 4 periods per day. There are multiple options for timed holds and fan control. It supports auto switch between heating and cooling. It will send alerts when you are due for a filter change or when it senses a problem with your equipment.
Honeywell YTH8320ZW1007/U | Check Price
---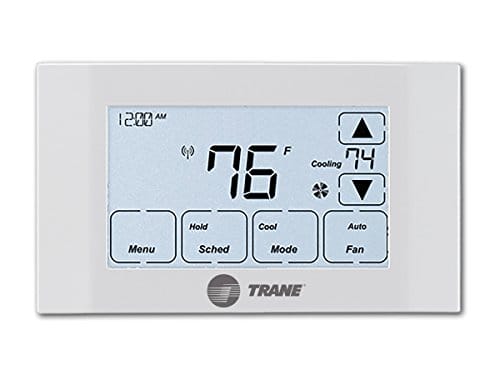 The Trane XR524 has features that are very similar to the Honeywell mentioned above. It does have the added benefit of being officially approved for use with Nexia. It's also capable of working with multi-zone systems.
It will work with many brands of HVAC equipment. It doesn't require Trane equipment.
---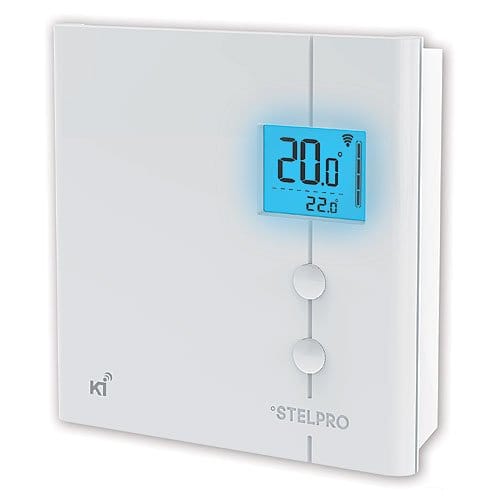 The Stelpro KI STZW402WB+ is the only Z Wave thermostat I have found for line-voltage applications. If you have electric baseboard heat or wall convection heaters, this is the type of thermostat you need. It looks great, it does not require batteries, and it supports the latest Z Wave Plus technology. For a closer look at everything it can do, see my Stelpro Ki review.
Stelpro KI STZW402WB+ | Check Price

---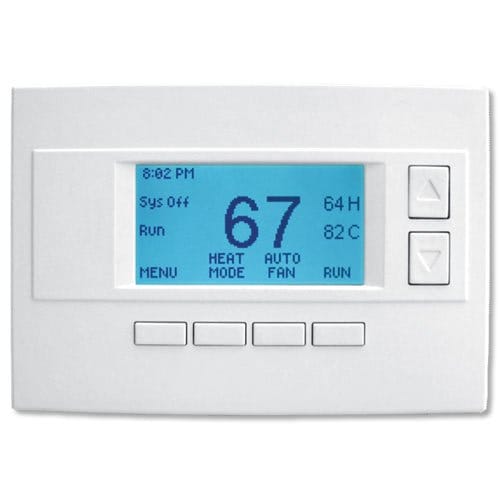 The RCS TZ45 is an offering from Residential Control Systems. I would describe this as a very nice programmable thermostat that just happens to have Z Wave. There are a total of six buttons with on-screen labels to make using it quite painless. It has a robust programmable schedule which allows for up to 4 separate 7-day schedules.
The TZ45 can be paired with up to two indoor wireless sensors. These remote sensors let you control temperature based on the parts of the house you actually use instead of only where the thermostat is mounted.
---
Final Thoughts
For most people, the simplicity and reliability of the GoControl will be the best option. But if you're looking for a little more style in the looks department, both the Alarm.com and Remotec thermostats are decent options.
---
Did you find this article helpful? Do you still have some questions that I didn't answer? Either way, let me know in the comments below and I'll be happy to strike up a conversation. Thanks for reading!
---