Once you've used smart home technology on a single appliance, and you've experienced the ultimate in "easy living" – you tend to get a little spoiled. Naturally, you want to use it more often, on more things. And you begin looking for opportunities.
While the possibilities seem endless, we are still in the early days of smart home technology. Thankfully, there are companies like Olibra – who are on the cutting edge in this emerging field. What they have now is just the beginning of what is to come.
What they have already developed and made available to customers is a device called Bond (as in- James Bond, perhaps?) which converts your ceiling fans and electric and gas fireplaces into smart appliances you can control and monitor from your phone.
Eventually, you'll be able to control your air conditioning unit, garage doors, motorized shades -and basically, any device or appliance that has a remote control – all with your Bond controller.
With this inexpensive unit, you can easily turn any ceiling fan (with a remote control) into a smart ceiling fan. This means you can easily connect your fan to your iPhone, Android phone, Ipad, tablet, Amazon Echo, or Google Home Assistant. How cool is that? It will allow you to effortlessly manage up to six different fans or other devices from a single Bond controller. Not bad, huh?
How Does It Work?
You can now connect your home remote-controlled devices like ceiling fans, to Wi-Fi using smart home technology. It's brilliant. Since the Bond can record and transmit in both RF (radio frequency) and IR (infrared) signals- it's going to be incredibly versatile and useful.
But this is so new, that as of this writing, it only works with ceiling fans and fireplaces. The good news is that the hardware to do this and much more is already available. To convert those additional appliances and devices to "smart" – only requires an update in software – which is in the works. To be clear, that means you won't need to buy some updated version of Bond. You'll just have to wait for the Bond developers to finish their updates.
So you can pick up the Bond at what is presumably a low introductory price – and turn your ceiling fans into something you can program from your phone at any time and from any location – via wi-fi. Currently, you can control up to six ceiling fans through a single Bond unit – and they need not be six of the same brand of style. All you do is name them differently, according to which room they're in, and connect them to your network.
The idea here is to give you total control of any ceiling fan in your house, remotely, using your mobile phone or tablet, plus the Bond controller and app.
Getting Connected Is Easy
It's very simple to get everything connected and linked together. There's no major installation required. All you have to do is plug in your Bond controller and make sure it's in scanning mode, as indicated by the blue flashing light.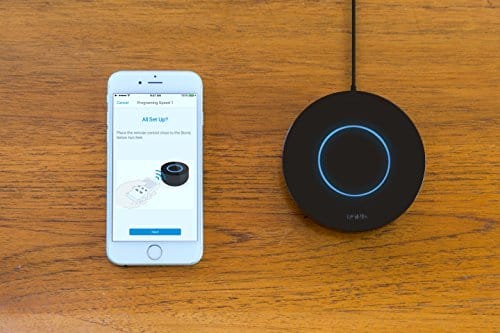 Next, download the app to your device and open it up.
Then, simply point the remote control of your ceiling fan directly at the bond from about an arm's length away and hold down the "on" button. Release the button when the blue colored light turns green on the Bond (It will also show this way on your phone or tablet). Within minutes, the fan is paired to your Bond and you can then issue your control commands and watch what happens.
Once everything has been setup correctly, all the functions that you have through your remote control are now available through the app -or your voice-controlled device. So you can control any aspect of the fan (or fans) from the phone in your pocket, wherever you happen to be.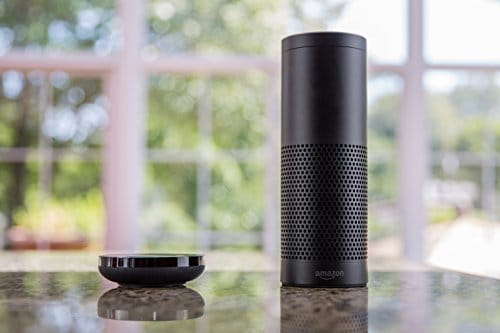 You'll be able to turn fans off and on and adjust speeds – as well as the light (if it exists) attached to the fan. You can do it right from the app, or by using your Alexa or Google voice activated device.
You can even control it on your PC or tablet through the IFTTT app, since Bond has its own IFTTT channel. This means you can set up a timer and other actions and functions with ease and have these adjustments made automatically.
Turn Any Ceiling Fan Into A Smarter Version of Itself
It's an economical way to turn your ceiling fans into smart fans. The one caveat being that the smart fan needs to be a remote-controlled fan. So don't forget, if you have the old-style fan that is powered on and off by a switch, you need to switch it to a remote controlled ceiling fan first. This is easily done with a simple retrofit kit. Once this step is complete, you can pair it with the Bond and you have a smart ceiling fan that you can control from anywhere.
Since the Bond is new to the market and the software is still in the development stage, as a buyer, you're probably wise to consider yourself an early adopter. Yes, you can use it right away. But it's only going to become more useful over time as more the company continues its development. Personally, I like how this company listens to its customers and is adapting to what people really want as it grows.
So the future looks bright. I suspect it won't be long before you can control your AC units, fireplaces, garage doors, motorized shades on your windows -and maybe more.
In theory – at least from my perspective – any common device that is controlled with the remote can potentially become a smart device through the Bond controller. Exciting times, indeed!
Most ceiling fans operate on RF (or radio frequencies). These low-frequency signals should travel through the walls at least as good or better than even your Wi-Fi signal does. However, for IR remotes, a straight line of sight to the Bond is required.
How Does It Work With Multiple Fans?
Each fan comes with its own remote control, assigned directly to that particular machine. Typically, ceiling fan remotes have jumpers or dip switches to change their frequency. The Bond will work just like your remotes. So, if you have it setup so that one remote controls multiple fans, Bond will do the same.
The idea of the Bond controller is that it can be programmed to replicate any RF or IR signal. So technically, it will support any device that has a remote. If the device is not yet officially supported by Bond, the digital interface for controlling it will simply show as a "custom" button. For those of us who like to tinker, this is an opportunity to play around and see what happens – or simply wait for each software update as it comes.
Final Thoughts
Many people are curious about smart home appliances. Anyone who's ever used a smart device or appliance before can appreciate the value they bring to our busy lives.
But the problem is, many of these products are super-expensive. This is where owning a Bond gives you a decided advantage. With this small round disk and the accompanying software, you can take any old appliance and convert it into a remote controlled smart appliance -without needing to replace the appliance or device itself.
The hardware is available right here. As new developments arise, it merely requires a software update to widen the control having the Bond gives you.
At this point, Bond holds a ton of potential. But at the same time, it's somewhat limited as to what it can do. But if you own even a single ceiling fan or electric or gas fireplace – it's probably worth your while to tap into the cutting edge technology of the Bond, while it's cheap to do so.
Once you have the hardware, you will not need to change a thing. To add support for more devices (and put more control in the palm of your hands) merely requires an updated software – something the company continues to work on…