It's 3 am and you wake up startled. Is your baby still breathing? You get out of bed, run to their room as quietly as possible, and peek in their crib. Relief floods over you as you realize you, once again, overreacted. Raising a child isn't for the faint of heart. Check out these 8 products to make your life easier today.
---
1. Owlet Baby Monitor
This is, without a doubt, one of the hottest baby monitoring devices talked about right now. Finally, FINALLY, someone has created a pseudo nanny to watch your baby through the night.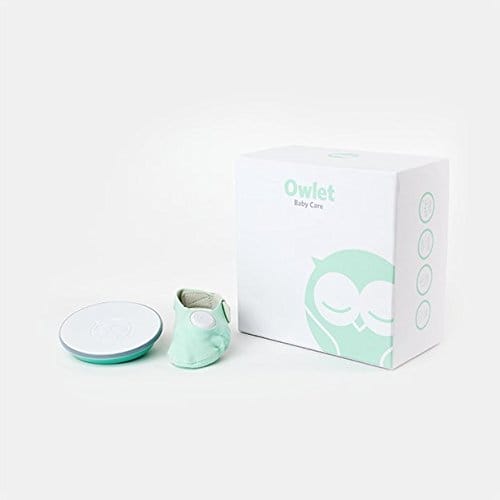 Take a look at the life-saving, sleep-saving, parent-saving Owlet on Amazon
The Owlet is a smart sock that you can place on your newborn's foot. It monitors pulse oximetry and heart rate to make sure your baby is alive and well at all times. It's the same as having them in the hospital cared for by nurses at night. It links up to your smartphone and alerts you if necessary.
No more erratic trips to your sleeping child's room just to reassure yourself, again and again, that they are fine. You can finally get the sleep you need so that you are a better parent during the day. Your baby will be well cared for and you can relax at long last.
---
2. Hatch Baby Smart Changing Pad and WiFi Scale
I don't think there is a parent out there that doesn't worry if their baby is getting enough to eat. Hatch has an app and now a device for that.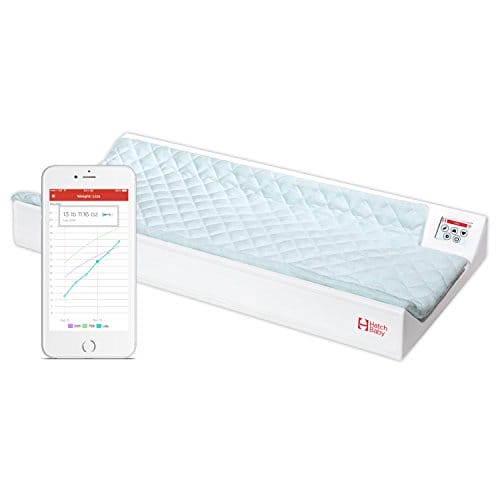 Check out Hatch Baby Smart Changing Pad On Amazon for latest deals and options
You can track each feeding and see how much your baby is getting to eat. Weigh your baby and share that information with your pediatrician with ease. Track diaper changes to make sure that input and output are at the levels they need to be.
The first few weeks having a newborn home can be rough. If it's your first child, and even if it's your fifth, you worry constantly about them getting enough to eat, having enough wet diapers, and making sure they are gaining weight at the right speed. This smart changing pad allows you to relax. It will reassure you your baby is doing just fine and let you enjoy that wonderful time with your baby.
---
3. The Mimo
Along the same lines of the Owlet, the Mimo monitors your baby in the night. There is so much fear around sleeping babies with SIDS. It's no wonder parents are a frazzled mess and can't sleep even if their baby is sleeping!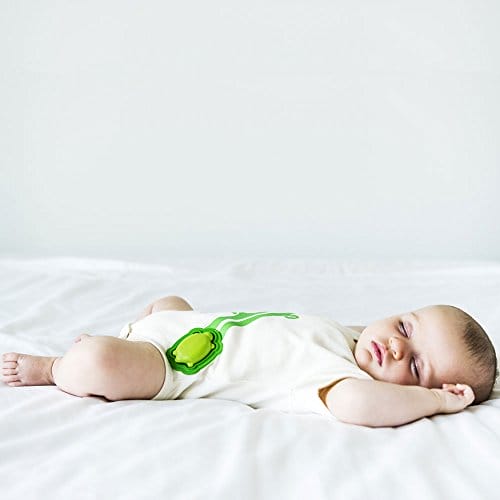 Head over to Amazon to get a great deal on a Mimo today
The Mimo is there to help. It's a wearable onesie that incorporates technology to monitor your baby's breathing (two different sensors) and movement. It also streams data for you to review if you have any concerns about respirations, sleep activity, skin temperature, and body position. These are all very helpful if you notice any changes in your baby.
You can simply take a look at your smart device anytime you wake up worried and be relieved to know just how the baby is sleeping. It's a time saver and a sleep saver for both of you.
---
4. Kinsa Digital Smart Ear Thermometer for Baby
Your baby feels extra warm and you reach for the thermometer. Do you actually trust you are getting a good reading? Chances are you will double if not triple check and get inconsistent results. With the Kinsa thermometer, you don't have to. You can trust to get an accurate reading the first time, every time.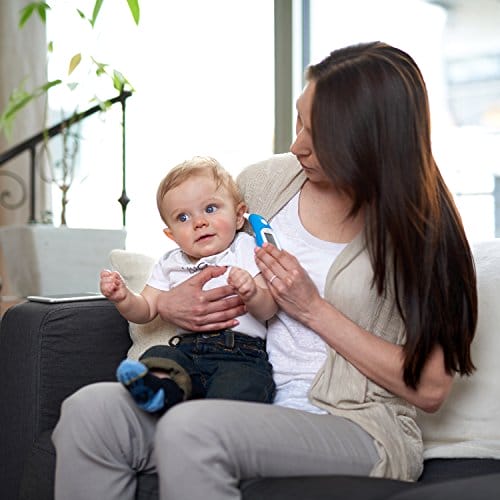 See Kinsa Digital Smart Ear Thermometer On Amazon For More Information
It works fast and that's the key here. If you have ever had to take a screaming, sick, thrashing baby's temperature, you know that it often doesn't work to hold it for 30 seconds. The Kinsa takes the temperature in ONE second. That's where the genius comes from.
Not only that, but placing a thermometer in any orifice can be a real challenge. Using an ear thermometer is a great way to keep baby calm to take a quick and accurate reading. You can even log your info into your smartphone to keep track.
---
5. Snoo Smart Crib
You have probably seen these and wondered what space age crib they have come up with next. There's always a new crib, a new way to lay your baby to sleep, and a new guideline for your baby's sleep. While these are ever changing and probably always will be, the Snoo Smart Crib looks like it's here to stay.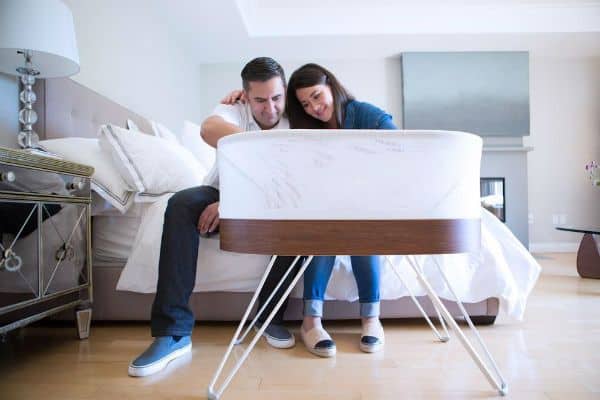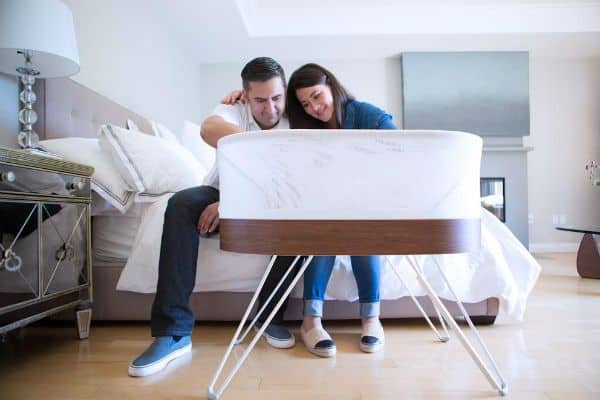 Check out the Snoo website for more information
When you have a newborn that just won't sleep, everything is hard. Getting up to make coffee seems like climbing Mt. Everest. Let the Snoo let you snooze again! It's a crib that has integrated technology to help soothe your baby. It literally hears and feels when your baby cries and moves, and starts to rock at a certain speed to soothe them. How magical is that?
One of my favorite features of it is its mesh siding that you can see through to make sure all is well at any time. It's stylish and will fit in with any bedroom decor. Stop trying to shove a pack and play next to your bed only to get up every hour or two to rock your baby. Do yourself and your baby a favor and get the Snoo to help you both sleep better.
---
6. Evoz Smart Baby Monitor
This isn't just any smart baby monitor. The Evoz has so many different features it will make your head spin. The wide angle HD lens allows you to see a crystal clear image of your baby day or night. No more fuzzy pictures where you can't really tell what's going on.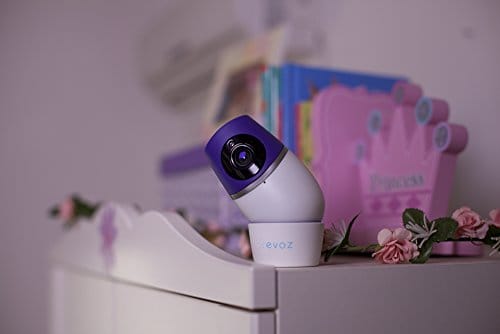 The Evoz will send you alerts only when your baby is crying. If the dog barks or your husband snores too loud, Evoz will ignore it. The best part about this beyond the clear image, is the ability to track anything and everything.
Being a new parent makes you forgetful. No matter how organized and on top of things you usually are, you just won't be as good with a new baby. Evoz has the capability to record: feeding, changing, sleeping, milestone, and temperature data for you. That's several things you can cross off your list of things to worry about!
Take A Closer Look At The Evoz Smart Baby Monitor On Amazon
Its app is also really helpful for parents (especially new parents). They have expert tips, tricks, and information that you can view all while nursing your baby back to sleep. It will also allow you to view and track your data to see where you can fix any issues.
Going out of town and leaving your baby with someone? The Evoz can go with. Allow any sitter or grandparent access so they can monitor your baby with the ease you do.
---
7. Amazon Echo
Ok, this one might not be obvious, but it's a great product for parents! It's 2 am and you just can't get baby to sleep. Amazon Echo can play a lullaby for you at your command. Maybe you can't remember when your baby's check up is. Amazon Echo has you covered again.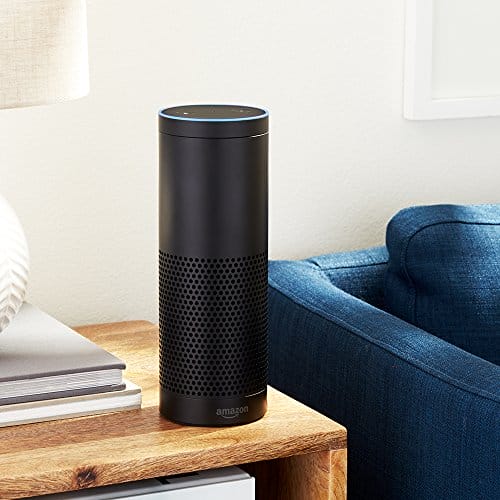 Head Over To Amazon To See Their Great Deals On The Echo
The options are almost endless to what you can use it for. It's a great way to destress and make sure you have all your bases covered. From temperature control and turning off the lights to playing white noise at 4 in the morning, let the Echo help you through these sleepless times.
---
8. Ring Pro Doorbell Camera
There isn't a good parent out there that doesn't get a little nervous leaving their child home alone the first time, or the 100th time. The Ring Pro Doorbell can really help with those worries. Once it's set up you can receive alerts directly to your phone anytime there is a visitor.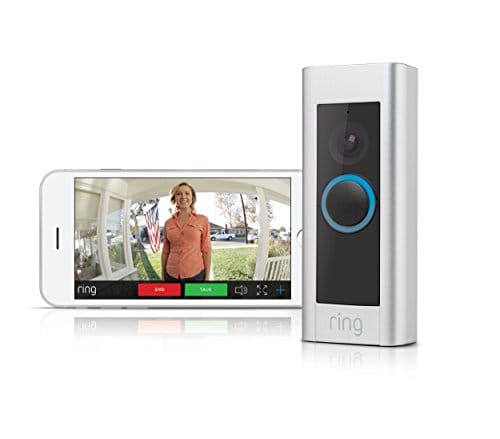 You will know who's coming and going and when. It's a great way to make sure your child is safe at home. The fact you can check it whenever you like is such a stress relief. Although, it's ability to alert you keeps you from checking your phone every 5 seconds instead of enjoying your chicken parmesan on a much-needed date night.
Check Ring Video Doorbell Pro On Amazon For Latest Price
---
9. Toymail Talkies
The Toymail Talkies look like cute plush toys. But inside is a Wifi connected voice messaging system. Download the Toymail app on your phone and you can send and receive personalized voice messages to and from your child. Talkies can even send messages to other Talkies by setting up a circle of friends.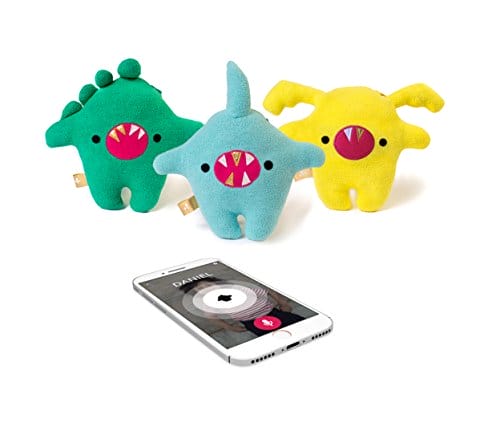 Toymail Talkies Are Available On Amazon Launchpad
You can use the scheduling feature to alert your child to when it's time for bed or time to wake up. It also has playful voice filters, changeable personalities, and reacts to physical play.
Final Thoughts
If you are looking for more sleep or just some general sanity in your parenting world, these products will get you through. You can finally enjoy a glass of wine, head to bed, and sleep soundly knowing that these products are your backup. They have you covered from temperature to dirty diapers. Now you can focus on more important things, like remembering to make coffee in the morning.
Do you have any experience with smart technology that makes parenting easier? Let us know in the comments below!