UPDATE: It's been over two years since the last Wiser Air app update. It appears development on this product has been stopped (read comments).
The Wiser Air is a smart thermostat that can talk to your smart meter. It will allow energy customers to more effectively manage their energy usage to save as much money as possible. It will also allow energy providers to better anticipate demand and more easily offer incentives for reducing usage during periods of high demand. That's the plan anyway.
So far the makers of Wiser Air, Schneider Electric, have not done that. But, there's no cause for alarm just yet. Schneider Electric has been intentionally taking their time with the Wiser Air to make sure they do things right.
Instead of focusing on features, the initial emphasis was on making sure the basic hardware of the thermostat was great. It is. Now their focus appears to have shifted to adding great software features. For the full review about the current features and what's coming, keep reading.
Installation And Compatibility
Like most other smart thermostats, this one is designed to be operated on 24V power. This means that it will not be compatible with high voltage systems like electric baseboard heaters and wall convectors. It will be compatible with most other systems including forced air, radiant, heat pump, oil, gas, and electric.
The Wiser Air requires a fair amount of power to run. As a result, it needs a constant source of power from the wall. It will never require batteries but does require a c-wire. In case you don't have a c-wire, the thermostat comes with a workaround called the Wiser extender.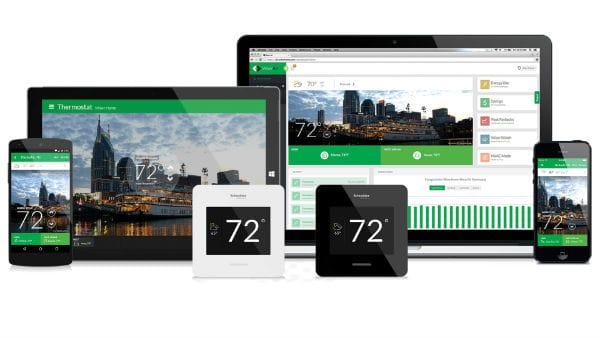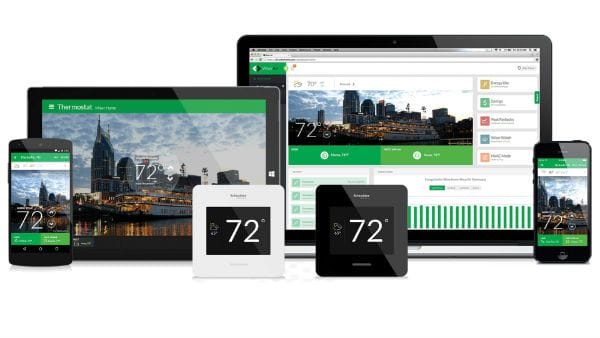 Specs
up to 3 stages heating and 2 stages cooling
Compatible with forced air, radiant, heat pump, oil, gas and electric systems
cooling setpoint range 48 F – 95 F
heating setpoint range 45.5 F – 95 F
Equipped with both WiFi and Zigbee communications
Wiser Air Features
The Wiser Air thermostat boasts a feature set that rivals all but the top smart thermostats on the market . There's more on the way, but here's what it has to offer right now.
EcoIQ
Schneider Electric released a major software update for the Wiser Air in the summer of 2016. EcoIQ was the biggest addition. It is the learning part of the Wiser Air. EcoIQ uses input from you to learn your schedule and how to keep you comfortable.
On average, it takes about a week to learn your preferences. But, the more often you give it feedback, the quicker it will learn.
To get started, EcoIQ requires two inputs from you.
First, you will set the temperature limits. Choose the lowest temperature you wish to allow in cooling mode and the highest temperature you wish to allow in heating mode.
The next setting is a simple slider where you choose how you want to balance comfort with energy use.
During the learning phase, the Wiser Air will slowly drift away from the set point until you nudge it back in the other direction. If your comfort balance slider is set more towards energy savings, the drift will be faster. If it's set more towards comfort, the drift will be slower.
Using the EcoIQ feature is optional. If you choose not to enable it, the Wiser Air has a more traditional programmable schedule that takes its place.
Wiser Start
The goal of Wiser Start is to get your home to optimal comfort at the time you want while using as little energy as possible. This means that when you get out of bed on a cold winter morning, Wiser Air will have already have heated your home to your morning comfort level.
Of course, making it warm when you get up is only half the equation. The Wiser Air thermostat tries to predict when it needs to turn on to save the most energy possible. It uses weather conditions and previous equipment performance to make this prediction as efficient and as accurate as possible.
Humidity Balance
You don't need a dedicated humidifier to effectively control humidity in most homes. Humidity Balance helps you control humidity by utilizing your air conditioner as a dehumidifier.
There is a setting to choose the maximum allowable humidity in your home. If the humidity rises above that level, Humidity Balance activates. The thermostat will lower your cooling set point by 1 degree. That will cause the air conditioner to turn on and begin to dehumidify.
Wiser Pulse
Wiser Pulse is the name they gave to the thermostat's backlight. At first, I thought it was kind of gimmicky that they felt the need to give a name to the backlight. But after seeing how cool it looks, I think I've changed my mind.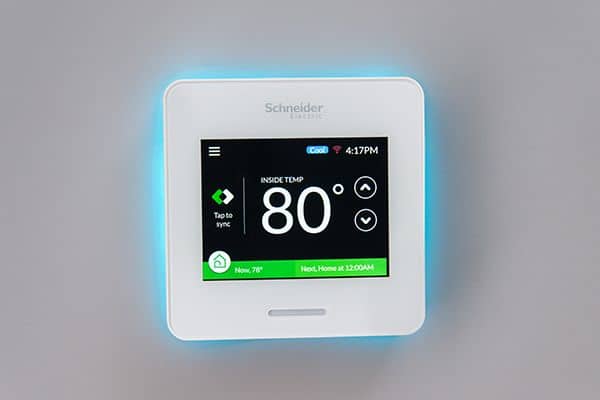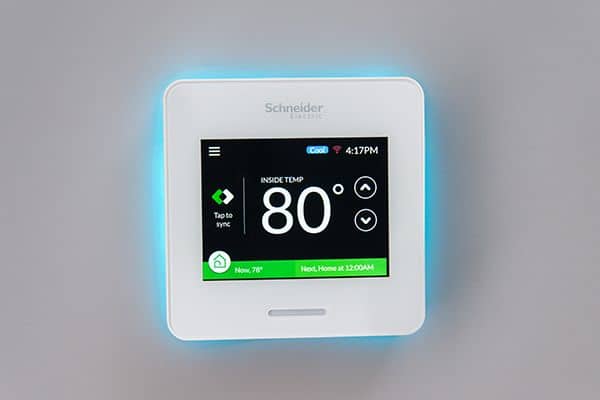 The thermostat will give off a pulsing glow that lets you know what your system is doing. It will glow blue for cooling, yellow for heating, and green for when EcoIQ is active and saving you energy.
The backlight intensity is fully adjustable from 0-100% with 0 being completely off. It's pretty bright so you may want to shut it off completely if it happens to be located in a bedroom. But, if it's in a hallway, it could function nicely as a nightlight.
Comfort Boost
Imagine you just came in from exercising on a warm day. You want to turn on the AC for a bit to help you cool down, but you don't want to mess up the EcoIQ schedule. That's what this feature is for.
Comfort Boost is a timed "boost" of heating or cooling that won't affect your previously learned schedule. The boost can be set to last for anywhere from 5-59 minutes. The default is 15 minutes. To trigger a Comfort Boost, all you need to do is press and hold the up or down arrow. This can be done from either the thermostat unit or the app.
Wiser Forecast
The Wiser Air display includes real-time weather information and forecast. It also sends out relevant severe weather alerts.
The weather information is provided by Weather Sentry. This is Schneider Electric's very own forecasting service. It has been the number one ranked weather forecasting service for nine years in a row. It is used by utility companies, airlines, and for sporting events.
Voice Control With Amazon Echo
Wiser Air is now able to work with Alexa. Basic Amazon Echo integration is now available so you can control your Wiser Air thermostat with your voice.
Wiser Air Will Keep Getting Better
Wiser Air's current feature set leaves the customer wanting more. Fortunately, that is the plan. It was released with a relatively meager set of smart features. But, Schneider Electric has been steadily adding more.
The EcoIQ update this past summer was the biggest so far. This update added the smart schedule learning ability. It also fixed a problem where users were constantly having to sign-in to the app on their mobile device.
Another update this fall added support for Amazon Echo. Basic temperature controls are available right now, and Schneider Electric plans to add support for EcoIQ features as well. Apple's smart home voice control system, HomeKit is scheduled to be added early next year.
Support for IFTTT was recently released. With a little bit of programming, IFTTT can be used as a DIY geofencing solution.
Other goodies that are planned for the future are:
Energy Insights. This is just their name for energy reports. It will allow you to see when you are spending the most and where you can save the most.
Wiser Air is designed to be able to connect to your utility company directly through smart meters. Schneider Electric is working with utility companies so that Wiser Air owners can benefit from energy company issued incentives during high demand hours.
Using Wiser Air
The thermostat includes a motion sensor. When you get near it, the large touchscreen display turns on. The 2.1 in H x 2.8 in W display makes operation easy even for those of us with fat fingers or fuzzy eyesight. After a short bit of time with no motion, the screen will turn off again.
When the thermostat connects to the internet for the first time, it will begin to update. The updates may take awhile. Be prepared to wait up to 20 minutes or more while the Wiser Air brings itself up to date.
Like any good smart thermostat, it has the ability to automatically switch between heat and cool modes. You can choose between four modes: heat, cool, auto, and off.
Users have reported no issues reconnecting to WiFi after power outages or internet outages. This is huge. Inevitably, your power will go out or your WiFi will get flaky. If your thermostat doesn't reconnect by itself when these things happen, it will probably end up being more of a headache than it's worth. The Wiser Air passes this test with flying colors.
There is no subscription fee to use the Wiser services. Once you purchase the thermostat, you create a free account and you're good to go.
What Does Wiser Air Need To Improve?
Wiser Air's existing features work great. I don't have anything bad to say about them. The only strikes this thermostat has against it are the features that are missing.
No Smart Home/Away Feature
The Wiser Air does have home and away settings which they call "Ready Modes". You can switch between modes manually using the app or automatically using static schedules. However, I wouldn't consider those methods to be "smart".
The schedule learning feature of EcoIQ is what I would call smart, but it's not very useful if you have an erratic schedule like I do. I don't care how many math geeks they herd into a room, Schneider Electric will never be able to create an algorithm that figures out my schedule.
There are two options that other smart thermostats use to deal with schedules like mine. One is motion sensors in the home. The other is using smartphone GPS to determine if you're home or not (this is known as geofencing). The Wiser Air doesn't have either of these capabilities (yet).
Limited Third Party Support
There is no support for Apple HomeKit but it is reported to be coming soon. Wiser Air was lacking support for both Amazon Echo and IFTTT but has recently added it.
Final Thoughts
The Wiser Air thermostat from Schneider Electric has the ability to be the best smart thermostat available. It has a well-designed hardware base and is made by a company with deep pockets that has a lot of experience in energy management.
However, the development team for Wiser Air seems to have stopped developing. The Wiser Air app hasn't been updated since 2017 and nagging bugs remain.
This thermostat is no longer a serious contender in the smart thermostat arena. The price has dropped accordingly, but even at a discount, I would look elsewhere.
Do you have any experience with the Schneider Electric Wiser Air Thermostat? Do you have any questions I didn't answer? Let me know in the comments below!