Some smart home devices require professional installation and permanent alterations. If you live in an apartment, that may limit which gadgets you can install. Fortunately, there are still a number of products you can use to turn your rental into a smart apartment.
---
1. August Smart Lock
The August Smart Lock (see my review) is a revolutionary way to keep your apartment door secure. Have you ever needed someone to get in your place while you were away? Do you have a backup key with a neighbor or friend? Now you don't have to worry about them losing or misplacing a key. You have the capability of creating temporary keys based on time and date as well as your own virtual key.
Beyond its obvious features, it also includes a 24/7 track of who has come and gone. You can access this from anywhere and everywhere! This increases the security of your living space as well as peace of mind.
Why is it apartment friendly?
The August Lock only requires replacing the inside of your existing deadbolt. If you are in a lease or rental situation, your landlord will most likely have no issue with this considering it's going to increase security. It's easy to install, and the benefits are huge.
---
2. Smart Lights
Smart lights are one of the easiest steps to making your space a smart space. They are also incredibly affordable. You will see the benefits immediately whether it be from an energy, security, entertainment, or even health standpoint.
Smart lights increase energy efficiency by your ability to schedule them. If you fall asleep on the couch, your light will turn off at 11 p.m. instead of staying on until the next morning while you snore away.
These lights can increase security by being placed on a schedule while you are away. Lights on in a home or living space deter thefts! If you have your lights on a system while you are on vacation, no one will even know you aren't there.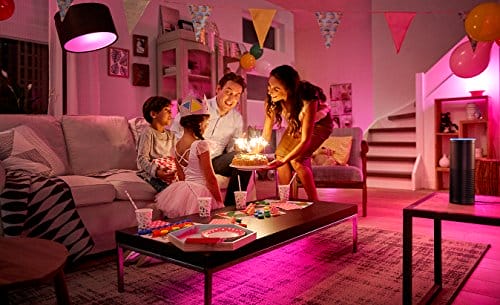 The entertainment value of these lights is off the charts. There are so many different features in different lights. You can set your lights to come on gradually while you wake up or even set a fun color for a party. The options are virtually endless!
Why is it apartment friendly?
Smart lights are apartment friendly because they require no extra time or energy on your part. You simply screw in the light bulb to your light fixture and sync it with your phone. That's it! No 2 hours of reading directions to program it. As an added bonus, they are reasonably priced!
---
3. Smart Switches/Plugins
Smart switches or plugins are a similar concept to the smart lights. You can plug your lights into them and customize it to your life. Want to have your lights on when you come home from work? No problem! Simply plug in the switch to your outlet and use your smartphone or tablet to set it up.
Related: TP-Link Smart Stuff Review: Plugs, Switches, And Bulbs
They also can help control energy efficiency. You can customize your plugins to turn your light off after a set amount of time. So many people fall asleep reading in bed with the light on. Now you can have your light turn off and sleep comfortably through the night instead of waking up to a bright light at 2 a.m.
Why is it apartment friendly?
Like the smart lights, these products comply with what you already have. Simply plug them into your outlet and plug your light into them. They are reasonably priced and can pay themselves off over time with their energy saving properties.
---
4. Nest Cam
There are endless possibilities of things to go wrong every day. This can weigh heavily on your mind while you are away from your place. With the Nest Cam portable connected home surveillance cam, you can now check in anytime from anywhere.
Do you own a pet? If you do, this is the perfect way to keep tabs on them! You can feel good about leaving for the day and knowing they are happy and healthy. Does Fido like to get into the trash? You can yell "No!" at him with the Nest Cam's two-way speaker!
Not only are you buying safety and security, but stress relief for yourself and anyone you may live with. While you can check in whenever you want, it can be stressful to check all the time. So, Nest will actually alert you when it detects movement in a time where you are set to "away". This is such a great feature to put you at ease!
Why is it apartment friendly?
The Nest Cam is small and discreet. It's easy to install and doesn't require hardwiring of any sort making it a perfect apartment cam. It has a 130-degree wide-angle precision view day or night. This is the best security system for a leased or rented space.
---
5. Voice Assistants
If you haven't heard of Siri, you are not paying attention. Having a voice assistant device is like having your own assistant 24/7. Amazon Echo and Google Home are popular choices that have worked a lot of the bugs out.
Want to turn some jazz music on while cooking? Simply voice-activate your assistant and ask them to play jazz music. That's it!
Almost everyone I know struggles with remembering everything every day. Our lives are so busy and overcomplicated that it would be crazy not to struggle with it. Use your voice assistant to remember things for you. You can even have them remind you of your appointments so you aren't late or read you the morning news while you get ready!
Why is it apartment friendly?
Voice assistants are typically very small and can blend in seamlessly with your décor. They also are really easy to set up. Once in place, you can have them integrate all your other smart home features, becoming your central hub for all your electronics.
6. Remo+ DoorCam 2
The Remo+ DoorCam 2 gives you a clear view of the area outside your door. Whether you're trying to deter package thiefs or simply want the option to communicate with your visitors remotely, this wireless camera makes it super easy. It connects to WiFi and integrates with your smart home via Google Home and Alexa voice assistants. It has motion sensors, night vision, and HD video to make sure nothing gets past it.
Why is it apartment friendly?
Many video doorbells are not apartment friendly because installation requires drilling holes or making some other modification that your landlord wouldn't be too happy about. However, the DoorCam 2 sits on top of your door frame without the need to modify the existing door or its frame. You might also consider these peephole cameras which are a little more inconspicuous and also install without making any modifications to the existing structure.
---
---
Wrap Up
Just because you are renting does mean you have to limit yourself with smart home products! Many smart home products are adaptable to apartments, but these 6 really work smoothly in your space. They are affordable, compact, and blend in with your life. After you buy one or all of them, you will wonder what took you so long!