The most popular smart locks are for standard deadbolt locks where the latch is separate from the deadbolt. There is no shortage of those types of smart locks (here's my list).
But, if you're looking for a mortise smart lock, your options are seriously limited. I spent some hours researching. It was a struggle, but I managed to come up with a few potential options.
---
Before You Buy
There are two basic approaches to getting a smart mortise lock on your door:
You can remove your existing mortise lock and replace it with an entirely new smart mortise lock. This can be quite expensive, and if you have to modify the size of the mortise, installing the lock can be a significant challenge.
You can try to retrofit your existing mortise lock with a smart device. The SwitchBot lock falls into this category. It attaches over the latch mechanism and rotates the latch to lock and unlock. In some cases, this can work if you have a single rotating latch that locks and unlocks the door. However, It is not a very elegant solution (my nice way of saying it's ugly).
In the US, most of the smart mortise locks from established brands (Yale, Schlage, Lockly) are sold as commercial products. For this reason, they are really expensive, and you won't find them for sale at retail stores.
I have found multiple smart mortise locks available at way cheaper prices by shopping at AliExpress. But, shopping there can be a bit of a gamble. If you're looking for any sort of reliable customer service, you will almost always be disappointed.
Conversely, there is a store based in the US called theconnectedshop.com. They sell many products similar to those listed on AliExpress. You will pay slightly more, but you will also get excellent customer service. They can help you make sure you get the correct lock for your door, they provide detailed installation instructions, and will even line up a locksmith to install it if needed.
NOTE: I don't have a door with a mortise lock, so I personally have not used any of these locks. Therefore I can't personally vouch for any of them. However, I have personally spoken with the people in charge at theconnectedshop.com, and came away convinced that they will make a serious effort to make sure buying from them is a satisfying experience. In the near future, I intend to test some of their products so I can do a proper review. Until then, at the very least, my hope is that by listing what's available, I can save you hours of aggravating research.
Complete Smart Mortise Locks
Smart Door Lock – The Connected Shop
The Smart Door Lock can be ordered in 8 different sizes so that you can be sure at least one of the sizes will fit the mortise on your door. If you have an existing mortise lock body, you can also order this lock with "no mortise". In that case, you keep your existing lock, but remove the front and back plates and replace them with the new Smart Door Lock panels.
You can unlock the lock with PIN, fingerprint, app, or keycard. It can store up to 100 fingerprints and using the app, you can assign an unlimited number of PINs. Each PIN can be programmed to work indefinitely or for a set period of time.
If you have any questions about what size to get, or if your door will work, don't hesitate to contact the people at theconnectedshop.com.
Once you order your lock, you will be given a link to detailed installation instructions. Again, if you get stuck, don't freak out. Instead, give them a call and their trained staff will help walk you through the installation process. Believe it or not, they have people that will answer the phone to help you.
Check Price | Smart Door Lock – The Connected Shop (Use Code UPERBL01 for 5% off)
Aqara A100 Zigbee Smart Mortise Lock
This lock is equipped with both Bluetooth and Zigbee. It also works with Apple HomeKit via the Bluetooth signal. You can integrate the Aqara A100 into your smart home using a Zigbee hub.
There's 4 potentially very convenient options to unlock the lock including fingerprint, PIN, NFC card, and Apple HomeKey. In addition, you could also use the less convenient methods of app unlock via Bluetooth or a physical key.
Aqara is a well-known brand within the smart home community. Therefore, you can be significantly more comfortable purchasing from their store on Aliexpress than most other vendors.
NOTE: Aqara makes 3 similar versions of this lock A100, A100 Pro, and A100 Pro Zigbee. The A100 Pro Zigbee is made for us international customers and is definitely the one you want.
Check Price | Aqara A100 Zigbee
YALE NEXTOUCH AUR-NTM-62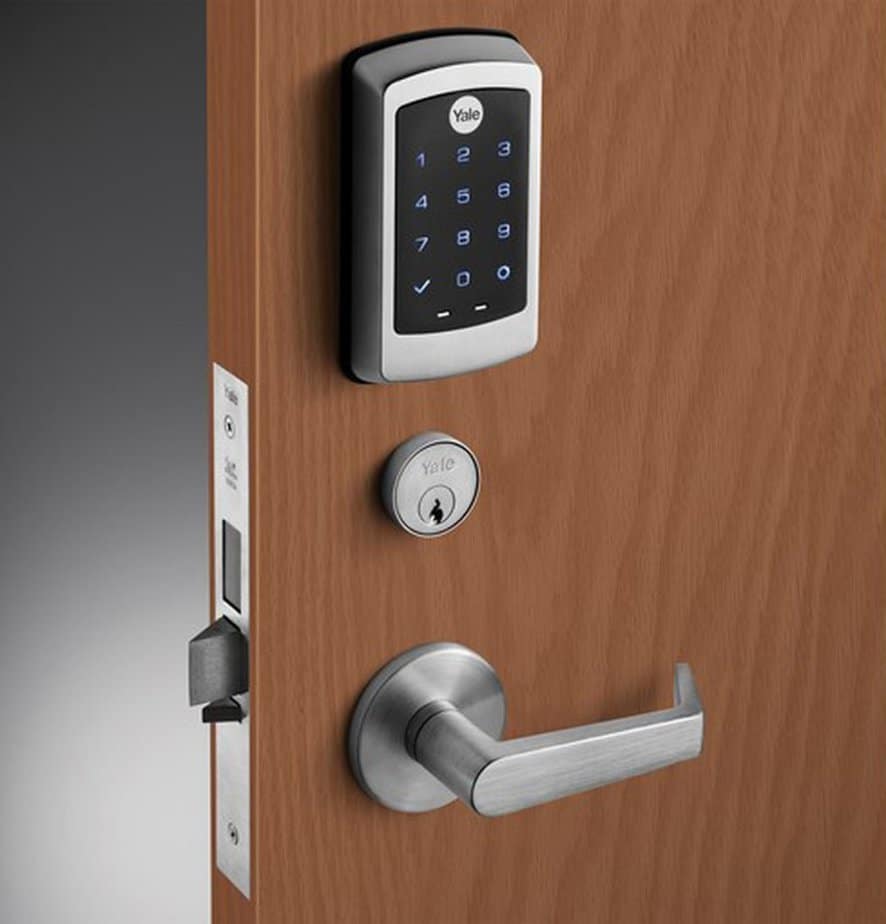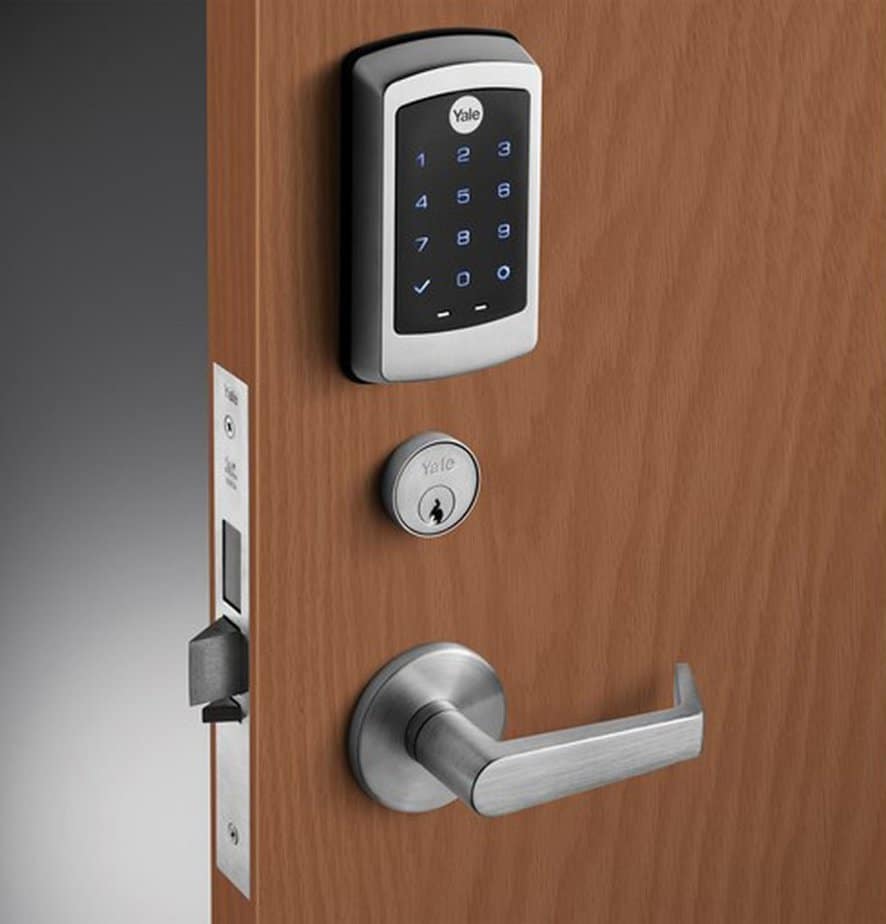 The Yale mortise lock is Z-Wave Plus certified. Those of you that know home automation know that Z-Wave support means it can easily be integrated into your smart home using the Z-Wave protocol. From a home automation standpoint, that makes the Yale better than most on this list.
That may not seem very exciting to you, but if you spent as much time searching for a true mortise smart lock as I did, you would understand my excitement when I finally found one that could be easily integrated into the smart home.
So even though the Yale lock is perfectly at home in a commercial installation, it will be perfectly at home in your smart home, too (if you can stomach the price).
Learn More | Yale Nextouch AUR-NTM-62
igloohome Mortise 2+ (IGM4)
The igloohome Mortise 2+ looks like a somewhat practical smart mortise lock for residential use, but lacks any proper integration with other smart home devices or security systems. Additionally, it's somewhat hard to find here in the US, frequently being out of stock on Amazon.
NOTE: igloohome is a Singapore based company and the lock is made in Korea (WHAT!? Not made in China!??).
You can unlock the lock using a PIN, fingerprint, RFID, or by using the igloohome app via a Bluetooth connection.
The lock communicates using Bluetooth, which is quite common among popular smart locks. However, most other smart lock companies also have a WiFi bridge which connects the lock to the outside world for remote access and smart home integration. Unfortunately, igloohome does not offer a WiFi bridge, which means there is essentially zero integration with the rest of your smart home.
Additionally, the only way to access the lock wirelessly is when you are within Bluetooth range. However, you can still generate access PINs without being within Bluetooth range.
Although the igloohome doesn't have full smart home integration, it does have lots of really nice features:
One of the coolest features of the igloohome lock is for people that have airBnB properties. You can sync the lock to your airBnB account and timed access codes will automatically be generated and sent to your visitors.
If the batteries die, a 9v battery can be used to briefly power the lock and gain entry.
The lock can sense when the door is closed and re-lock upon closing.
Includes a temperature sensor that monitors for unusually high temperatures that may indicate a fire. If a fire is sensed, it will automatically unlock.
The igloohome lock requires a door thickness of 40mm-70mm and >190mm clearance from the door edge.
Check Price | igloohome Smart Mortise 2+ Lock
---
Schlage LE Wireless Mortise Lock
The Schlage LE wireless mortise lock is built for commercial use. Therefore, it won't be sold in regular retail stores, and it won't be sold at residential prices.
It comes with built-in Bluetooth and WiFi and can be configured from anywhere (using WiFi).
Schlage's wireless management software is called Engage (not to be confused with Schlage Encode) for commercial locks. The software lets you set schedules and manage up to 5000 users and 100 locks.
It also has a door position sensor built into the lock and strike-plate, which allows you to monitor door open/close events.
However, it's not meant to act like a regular residential smart lock. You can't use the WiFi to connect your Alexa or other smart home hubs.
Learn More | Schlage LE Wireless Mortise Lock
Lockly Secure Lux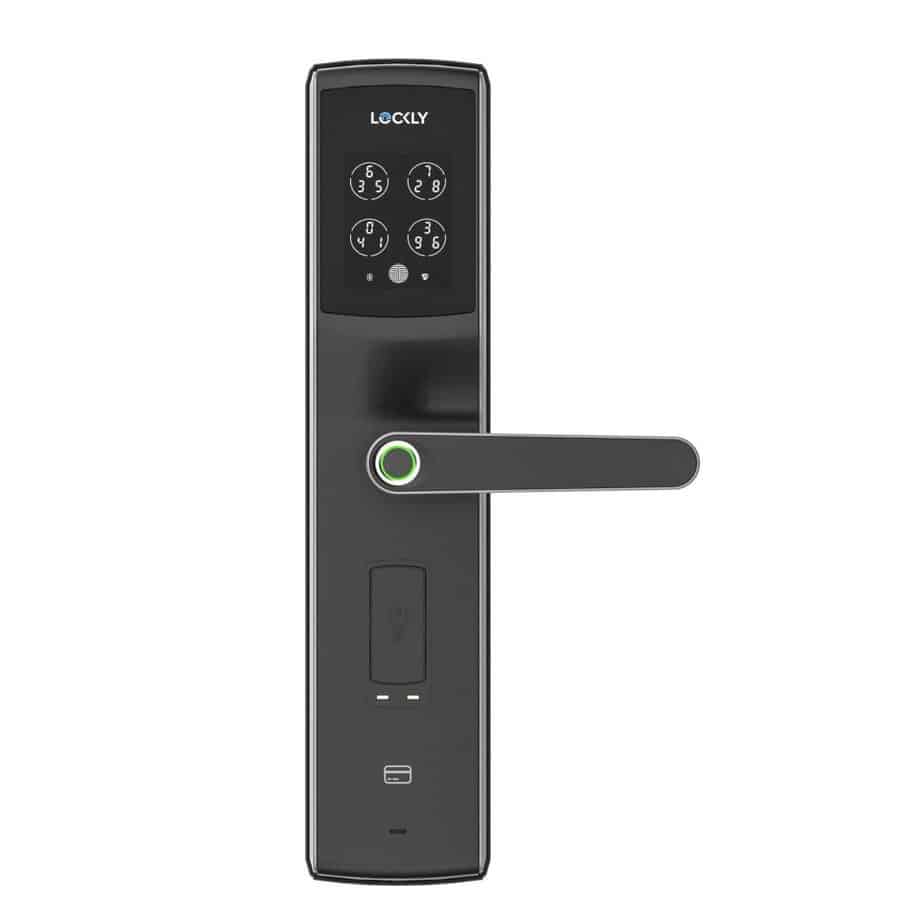 Lockly has a series of smart locks for both commercial and residential applications.
The Lockly Secure Lux is one of two (see below for the other one) that will work for a mortise lock. It is designed for a commercial installation. However, other than the price, I don't see any reason why it wouldn't work for a residential installation, too.
By itself it is a Bluetooth connected lock. In addition, it can be purchased with a Wi-Fi hub. The Wi-Fi hub package also comes with a door open/close sensor for more detailed monitoring.
It can be opened with the app, a fingerprint (oohh, fancy!), or a PIN.
The Lockly locks have a unique PIN code system that eliminates someone peeking from being able to guess your code (see the circles of numbers in the above image).
Learn More | Lockly Secure Lux PGD829
---
Accurate Mortise Lock SM9159E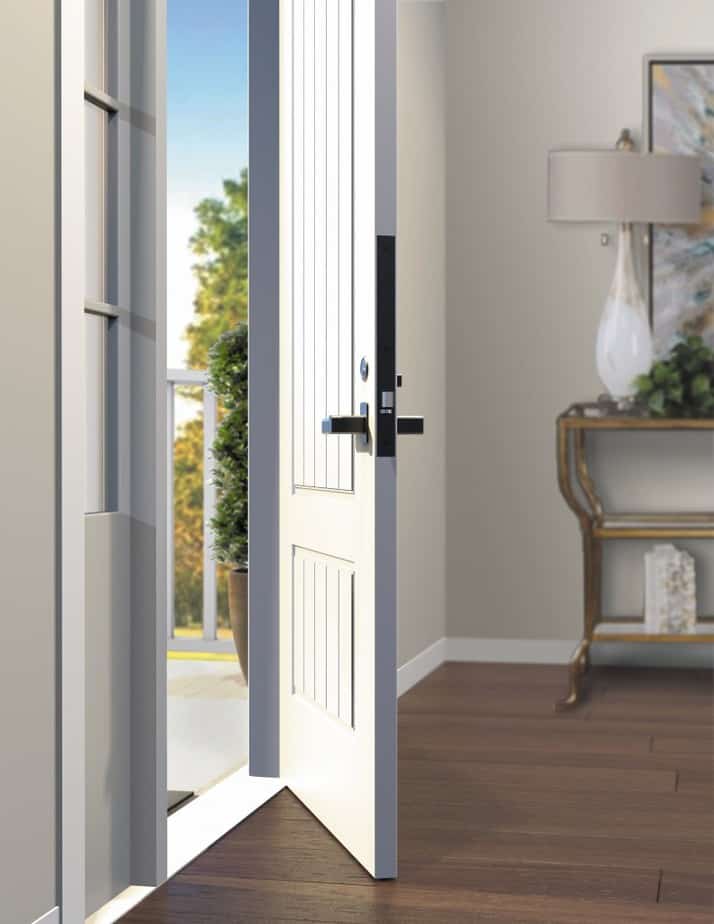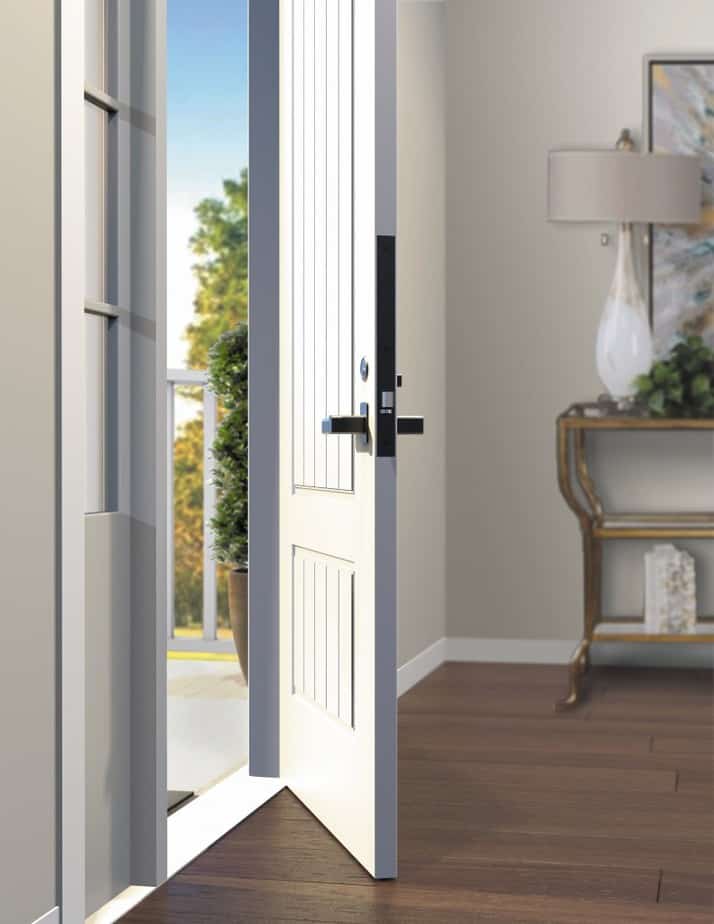 Last but not least is the Accurate SmartEntry SM9159E Smart Mortise Lock. This lock is made for commercial or high-end residential installations.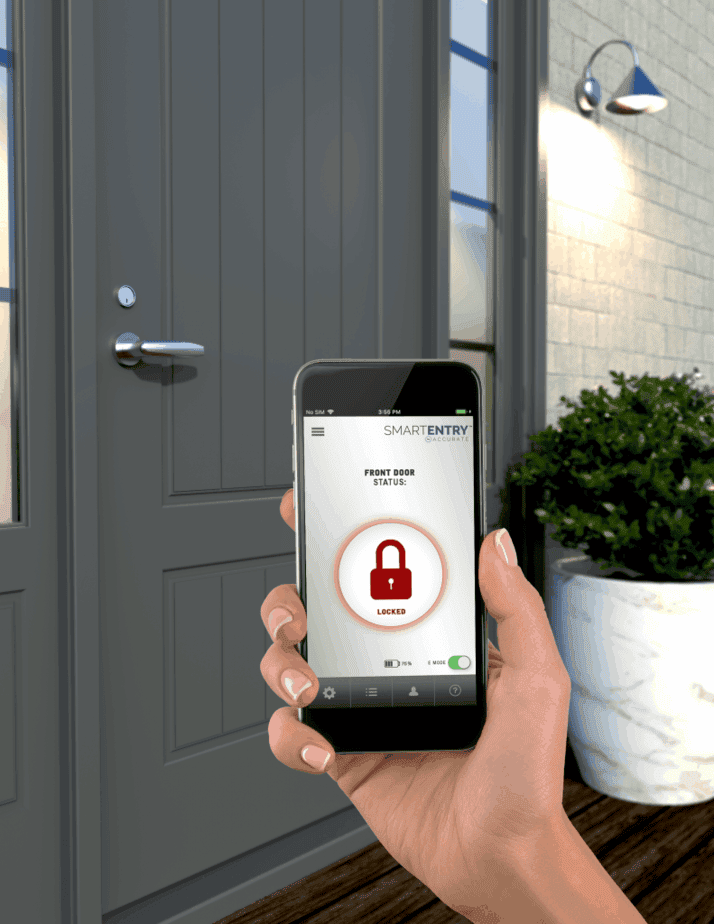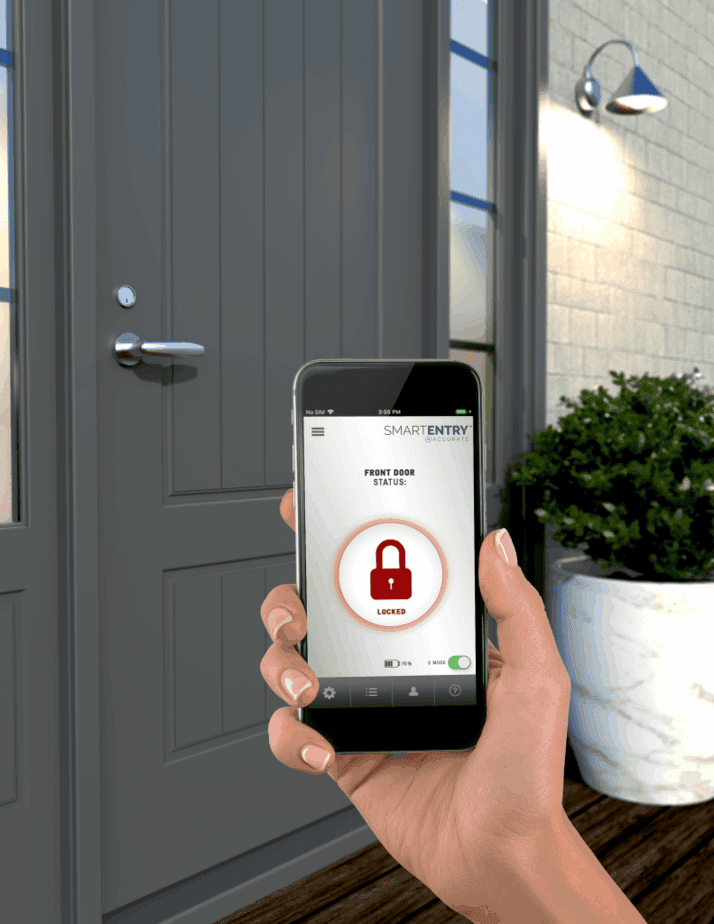 It has both Bluetooth and WiFi connection and is controlled with their own SmartEntry app. It integrates with both Alexa and Google Home (and others apparently but I don't know which).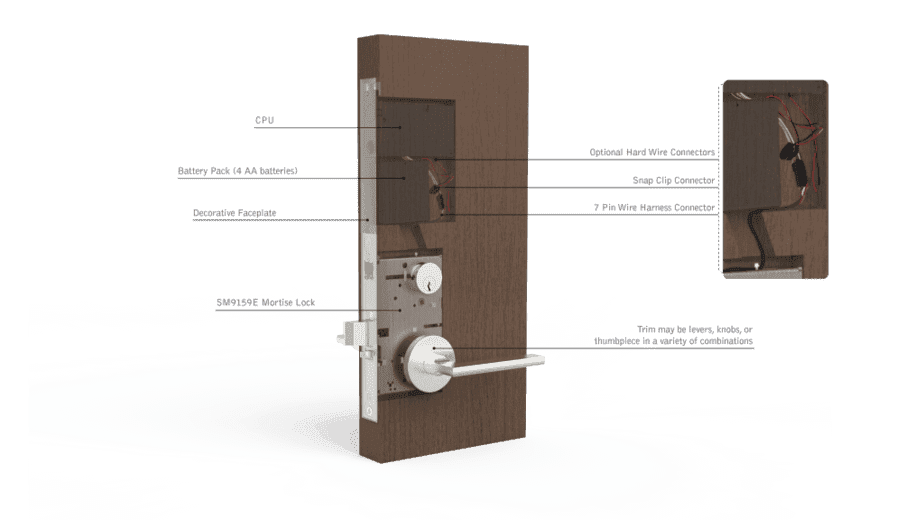 The Accurate lock can be installed either hard-wired or battery powered. Either way, there are no visible electronics.
The price is obscene, so check it out if you dare.
Honestly, I only included this lock for fun. I don't actually expect anyone to pay thousands of dollars for a single smart lock. My guess is if you have the money to throw down on this lock, you're probably not reading this because you're too busy stacking $100 bills. But, if you are actually interested in this lock, it's probably best to find a distributor and call them.
Learn More | Accurate Mortise Lock SM9159E
---
Smart Retrofit for Mortise Locks
A potential simple and low-cost option is to retrofit a "smart latch turner" like the SwitchBot smart lock (below) to your existing mortise lock. However, this is very much a "hack" job.
I've read multiple accounts of people attempting the retrofit approach with varying degrees of success. Unfortunately, many mortise locks cannot be fully unlocked by simply turning the deadbolt latch. If that is how your lock works, then the retrofit option becomes significantly more complex. In order to use the retrofit approach with a lock like that, it would require some modification to the locking mechanism. This thread on Reddit explains in more detail.
SwitchBot Smart Lock
The SwitchBot lock may work on some mortise locks. But to be clear, it will only work for mortise locks that have a single rotating latch as the locking mechanism. As I said above, you need to be able to fully unlock the lock by simply turning the deadbolt latch.
The SwitchBot lock is an ultra-versatile retrofit smart lock. It's similar to the popular August Smart lock. However, what sets the SwitchBot apart is how it attaches to the existing lock.
The August, and others like it, require you to remove the inside cover plate of the deadbolt and replace it with the new smart lock's hardware. This would not work for a mortise lock because the inside cover plate is much larger and covers both the handle and the latch.
On the other hand, the SwitchBot lock fits over the existing latch hardware. You don't have to remove anything. You just stick it in place with the included adhesive.
Essentially, it's a smart latch turner.
You get the best value by purchasing a bundle that includes the lock, the Hub Mini (required for WiFi connection), and the keypad.
Check Price | SwitchBot Smart Lock Bundle
---
FAQs
---
Final Thoughts
I spent an unusually long time trying to compile this list of mortise smart locks. And, finding them was only half the battle. Information about them is fairly limited, too.
Related: I also found some smart locks for sliding doors
So even though this list falls short of my usual level of detail, I hope the list itself is enough to save you some time and help you find what you need.
If you have used any of these locks, I'd love to hear about your experience in the comments below. Thanks for reading!