Smart locks are growing in popularity, and it's easy to see why. After all, safety and security rank high among all of the ways new technology is improving our lives. With a smart lock, you'll no longer need to rush home to make sure you locked the door. Instead, most allow you to check the app to see the lock history and lock the door remotely.
By the same token, if you misplace your keys, a smart lock means that you no longer have to call a locksmith, stash a key under the doormat, or climb in through a second-story window. And if someone like a housekeeper, friend or AirBnB guest needs access, there is no need to sneak out of work to let them in. You can easily grant guest access using your app.
With great features available like motion sensors and auto-unlock, it may be time to upgrade to a smart lock. But with all of the options on the market, how do you know which features are important and which smart lock to choose?
| Image | Title | Price | Buy |
| --- | --- | --- | --- |
| | Schlage Encode Smart WiFi Deadbolt | | Buy Now |
| | August Smart Lock Pro + Connect Wi-Fi Bridge, 3rd gen | | Buy Now |
| | Yale Assure Lock SL, Wi-Fi and Bluetooth Deadbolt | | Buy Now |
| | Kwikset - Kevo 2nd Gen Bluetooth Touch-to-Open Smart Lock | | Buy Now |
Product prices and availability are accurate as of the date/time indicated and are subject to change. Any price and availability information displayed on [relevant Amazon Site(s), as applicable] at the time of purchase will apply to the purchase of this product.
Prices pulled from the Amazon Product Advertising API on:
---
---
6 key smart lock features to consider
The top smart locks all have a few things in common. With that in mind, I'm listing some of the features you want to consider when deciding which smart lock will fit your home and lifestyle the best. So, look through these factors to see which are the most important to you before making a purchase.
---
1. How long is the battery life?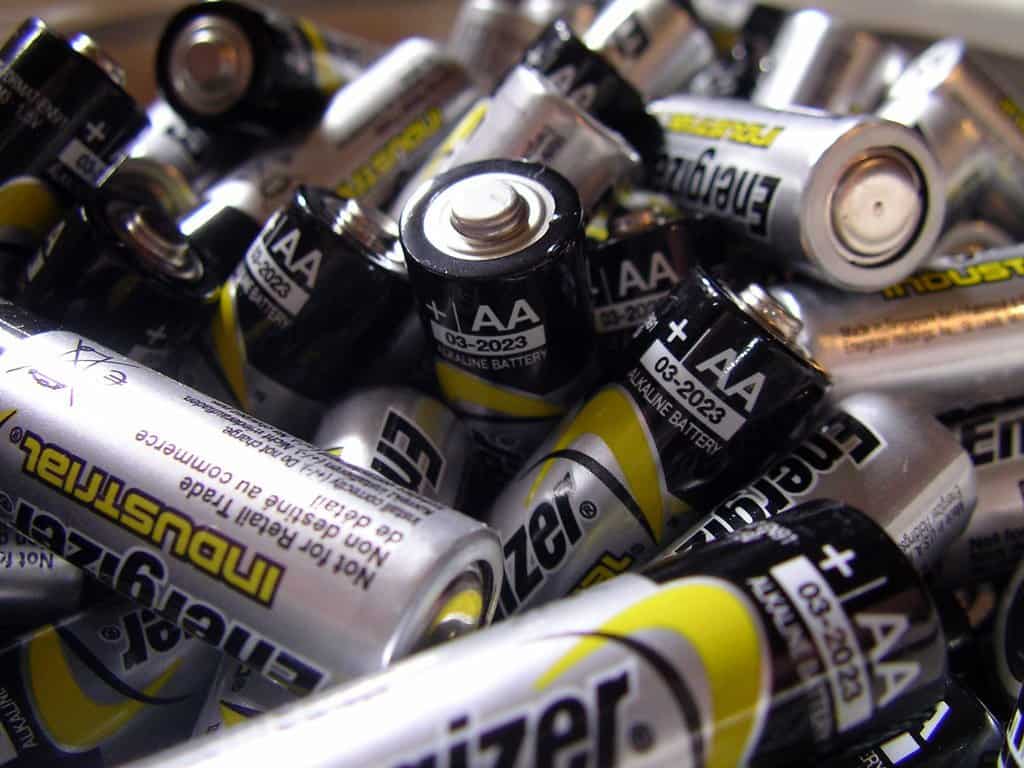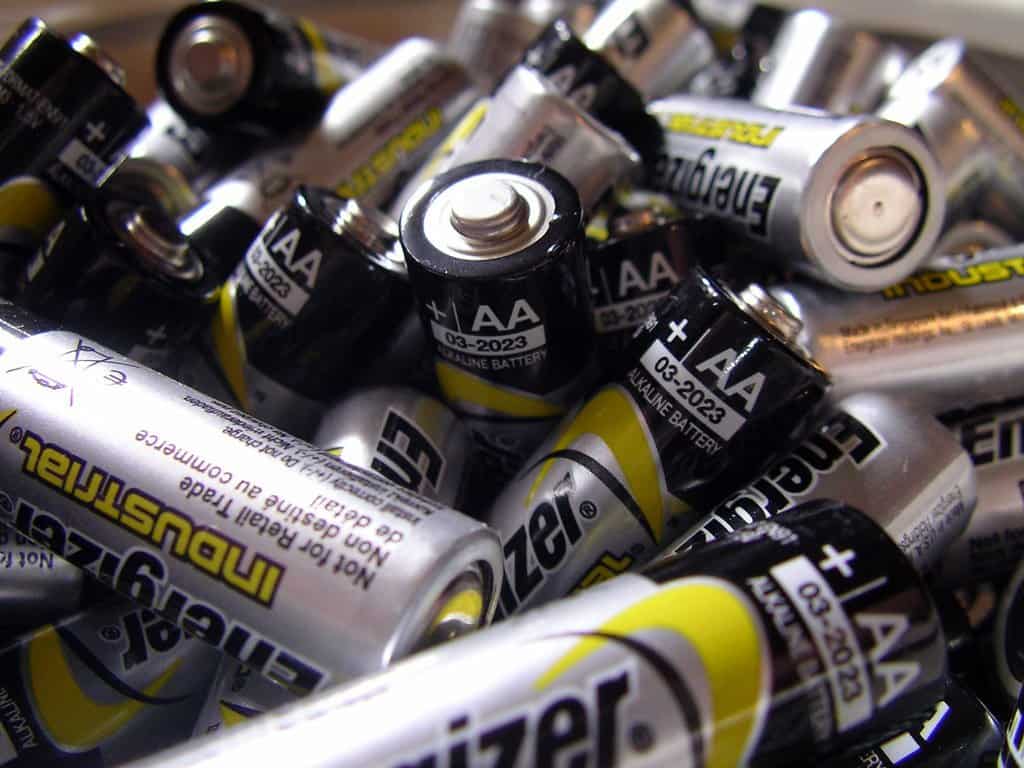 First things first, battery life is a key consideration (it's also rule #11 in my list of essential smart home tips). In fact, it's one of the biggest factors for most people who want to purchase a smart lock. After all, very few homes run electrical wiring right to their doors, which means that smart locks rely on batteries for power. 
There are plenty of variables that affect battery life, not the least of which is how the lock wirelessly connects. The four most common connection integrations are Z-Wave, Zigbee, Bluetooth, and WiFi.
You are almost certainly familiar with WiFi and Bluetooth. However, if Z-Wave or Zigbee are new to you, the easiest explanation is that they are wireless protocols—or languages— for your smart devices that are ideal for home automations. (You can learn more about both technologies here.)
Why does the type of wireless connection affect battery life? Z-Wave and Zigbee can both operate using very low power, whereas WiFi requires far more. Bluetooth uses relatively little power but also features a lower bandwidth.
In general, it's worth knowing that WiFi typically uses too much power to be viable for a battery-powered device. However, as with any rule, there are some exceptions, and the same is true for smart locks. And advances in battery technology, combined with the way that routers are improving WiFi standby features, mean that some locks can perform well using a WiFi connection.
Regardless of your wireless connection, you'll definitely want to take a look at battery life and consider what is feasible for you. If this is for a rental property you don't frequently visit, then a longer battery life may be more important compared to your home, where you can more frequently change out batteries with ease.
---
2. Does it work with any smart doorbells?
Compatibility should be a part of your decision. You're going to want to make sure any smart home product you buy will be compatible with any home automations you already use.
For example, if you buy a Z-Wave lock (like these), you'll need a Z-Wave hub to control it. If your existing devices use different technology, you must decide if you want to streamline them either now or down the road. And it may mean you should consider a different selection.
This is particularly relevant when it comes to your smart doorbell. Even if you don't own a smart doorbell today, you may want to get one in the future. In that case, it would be incredibly helpful if your lock and doorbell work together.
---
3. How Well Does the Auto-Unlock Work?
Here are my two cents on auto-unlock: if I can't get my smart lock to auto-unlock when I get home, then I don't see the point of having a smart lock.
This is difficult to do well because of the security implications.
However, if you have your smart lock set to unlock once your smartphone arrives at the front door, that can be incredibly convenient. No need to juggle an armload of groceries or a sleeping child to fumble with the lock or your smartphone. Instead, all you need to do is turn the handle and go in.
---
4. What happens if there's a failure?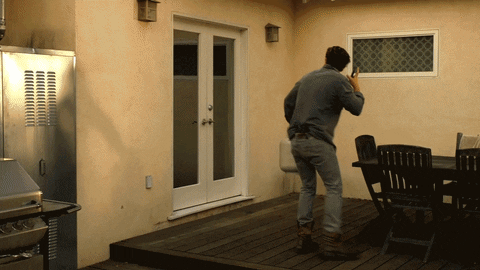 I just mentioned why I love an auto-unlock feature. But there are times when even the best auto-unlock system won't work. You don't want to be stuck calling a locksmith or trying to figure out how to break into your own house.
Maybe your phone isn't on you, or perhaps its battery is dead. In these instances, the ideal backup method is a keypad. Moreover, keypads are also highly beneficial when it comes to creating temporary keys for guest access (see below for more on this).
But what if there's an electrical failure like a dead battery? In those instances, you'll want to have a mechanical failsafe (that's a fancy way to say "key") that allows you access to your home.
---
5. Does it allow guest access?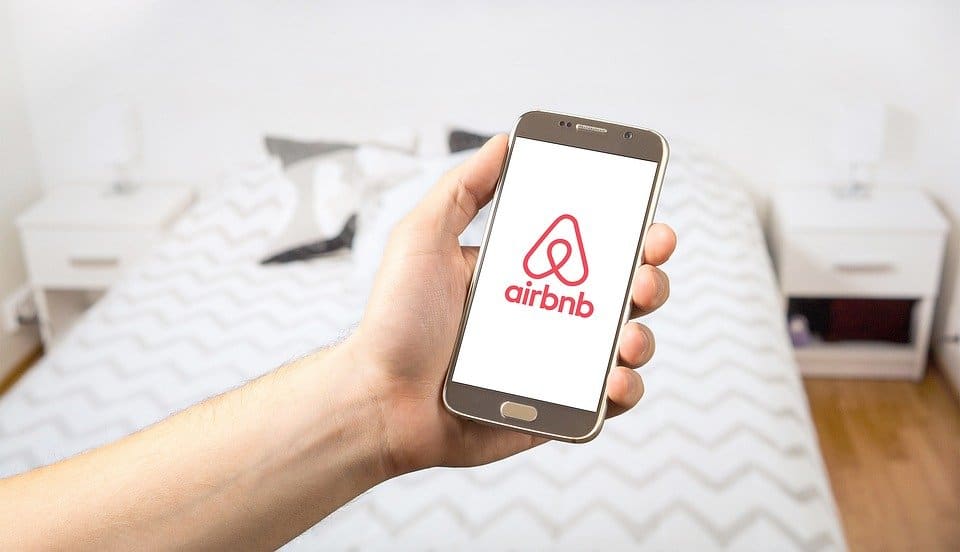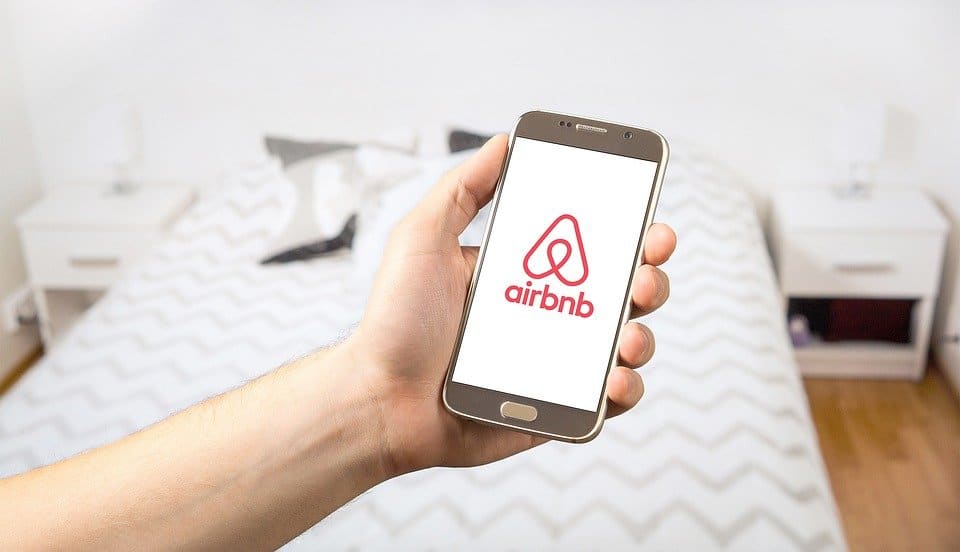 For most of us, we rarely need to let someone into the house when we aren't there. But the ability to create temporary keys for guest access can be an incredibly handy feature, even if you don't frequently make use of it.
Potential applications might be when you have a housekeeper, a pet sitter, or even a friend or family member who needs to swing by when you aren't home.
It's for this reason that smart locks are incredibly popular among Airbnb hosts. You can easily set lock codes that are custom for each set of guests, and then turn them off when the rental agreement is up. You can also revoke guest access at any time.
It is worth noting that some companies do charge for temporary access. If this is a feature you plan to use frequently, find out if it's included or if it's an optional add-on.
---
6. Is it compatible with your door?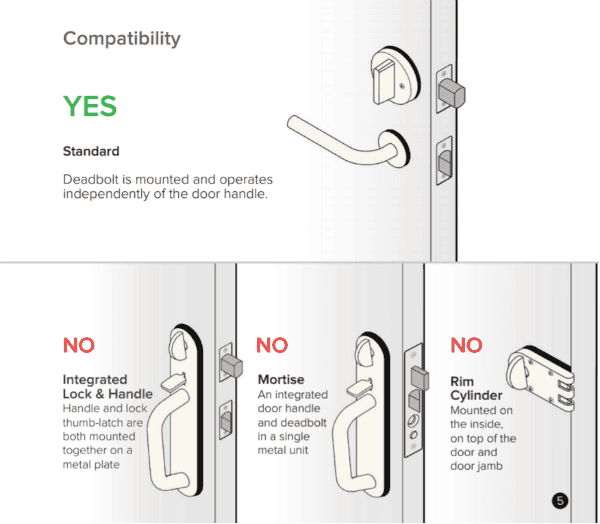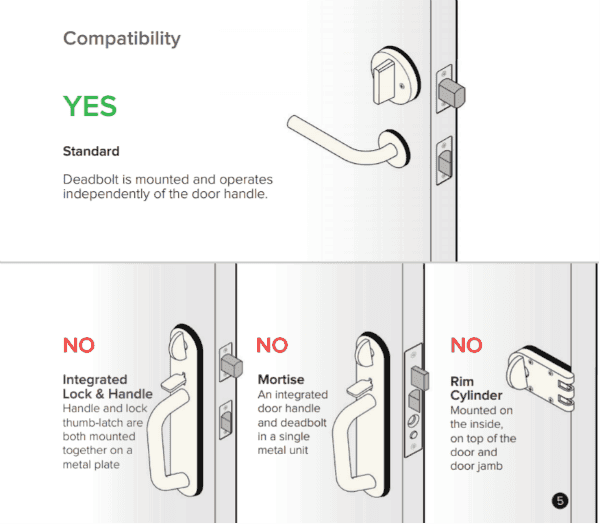 We already talked about compatibility with your existing smart home or smart doorbell set up, but there's another compatibility factor to consider.
Will the smart lock work with your door itself?
A retrofit like the August lock replaces only the inside part of your deadbolt. The outside part of the lock stays in place. From the outside, you can't tell that there's a smart lock attached to the door.
Retrofit style smart locks can be configured to work left hand or right hand. However, smart locks that completely replace the old deadbolt must be purchased for the correct handedness.
If your door doesn't have a deadbolt at all (which is only common in older homes) then you'll either need to add a deadbolt or possibly replace your door.
Less common lock types, such as a mortise lock, will require a specialty smart lock, which you can read about right here.
When it comes time to install your new smart lock, the deadbolt must align correctly with the strike plate. If there's a lot of friction when you try to lock your deadbolt, your smart lock motor won't be powerful enough to consistently lock/unlock the bolt.
---
5 Best Smart Locks
Now that we've covered the factors you'll want to consider as you select the best smart lock for your home, I want to go through the 5 best smart locks on the market. Before you decide which one you want, you should have a full understanding of the pros and cons of each one.
1. Schlage Encode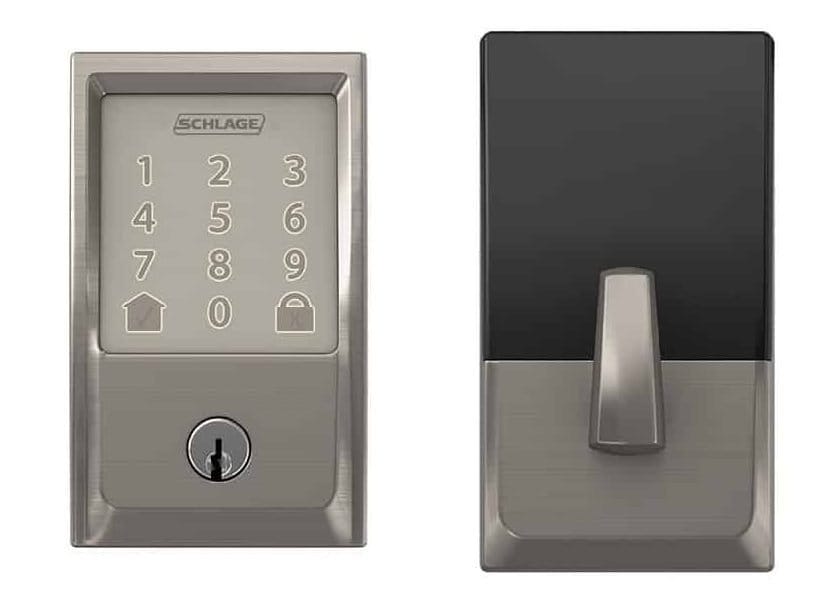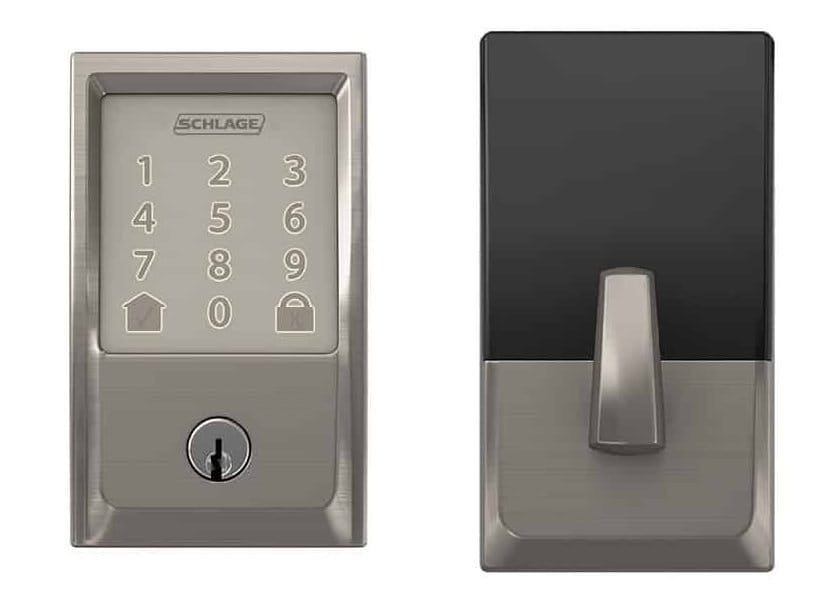 The Schlage Encode is one of the top locks on the market for a reason. It's affordable and incredibly easy to install. It does use WiFi, which means battery life is limited, but still, the 4 AA batteries will only need replacement every 6 months or so. With the right tools, you can have it installed in under 20 minutes.
While it doesn't have a built-in auto-unlock feature, it does integrate with Ring devices, Alexa, Google Assistant, and Amazon Key.
If you use Alexa, one of the biggest benefits is being able to unlock the Schlage Encode with your voice.
Plus it includes up to 100 user codes, which is perfect if you have several people coming and going. What's more, the Schlage app (for iOS and Android) also allows you to check out the lock history, plus a variety of other powerful features.
---
2. August Smart Lock Pro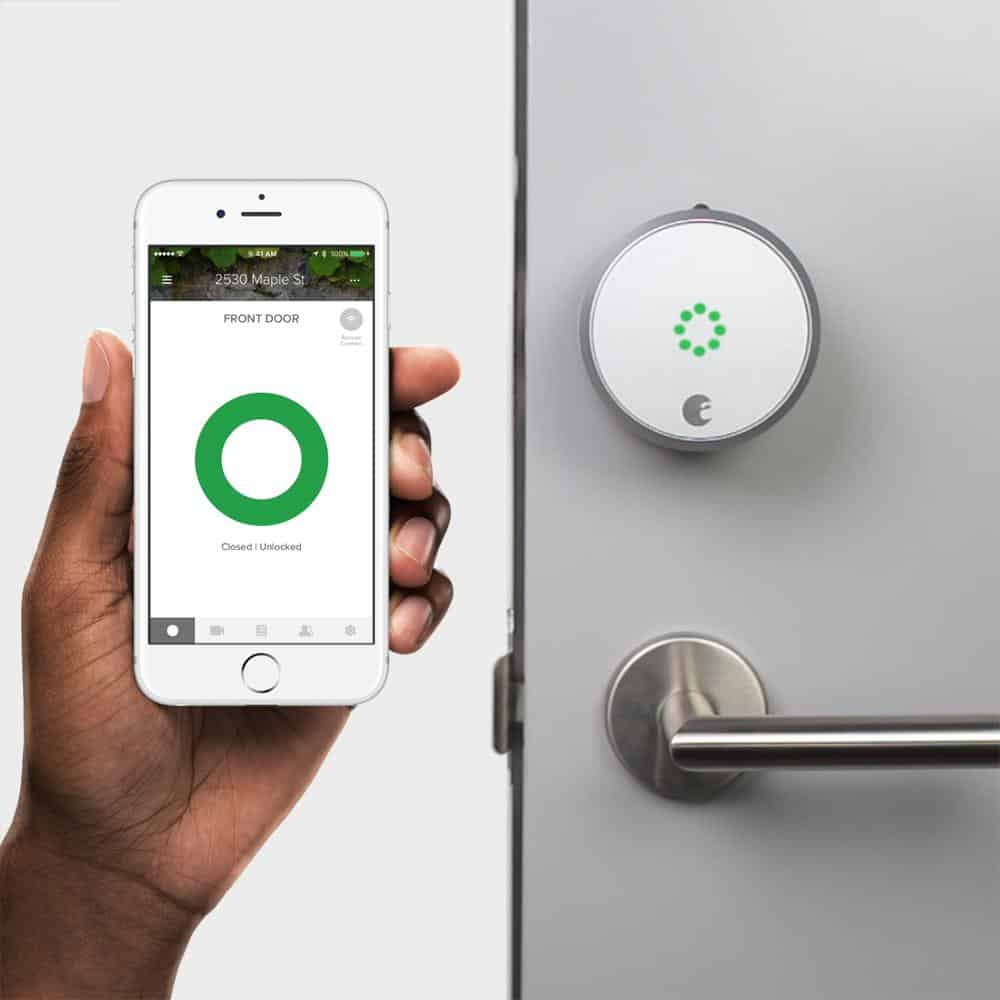 The August Smart Lock Pro is a great option because it works with your existing keys.
In fact, from the outside, you'd never know that a smart lock is in use – because this option replaces the inside half of your existing deadbolt. The downside with this approach is that you don't have a keypad option, so if a keypad is important to you, this may make your decision upfront.
Like the Schlage Encode, the August Smart Lock Pro also features a 6-month battery life with 4 AA batteries. So although you will need to change out the batteries, it's not something to worry about frequently.
August has the best system for auto-unlock (more in my detailed review). It uses a combination of GPS Bluetooth connection and your home's WiFi connection to determine when to unlock for you.
The August Smart Lock Pro allows you to connect using either Bluetooth or Z-Wave Plus. If you opt to use Bluetooth, this lock option does require the additional Connect Wi-Fi Bridge in order to enable remote operation. Otherwise, if you opt not to purchase and use the bridge, you will need to be within Bluetooth range to receive notifications or issue commands.
Another great feature of this lock is DoorSense, which senses whether your door is open or closed and prevents the lock from auto-locking if the door is open.
August Smart Lock Pro | Check Price
---
3. Yale Assure SL Connected by August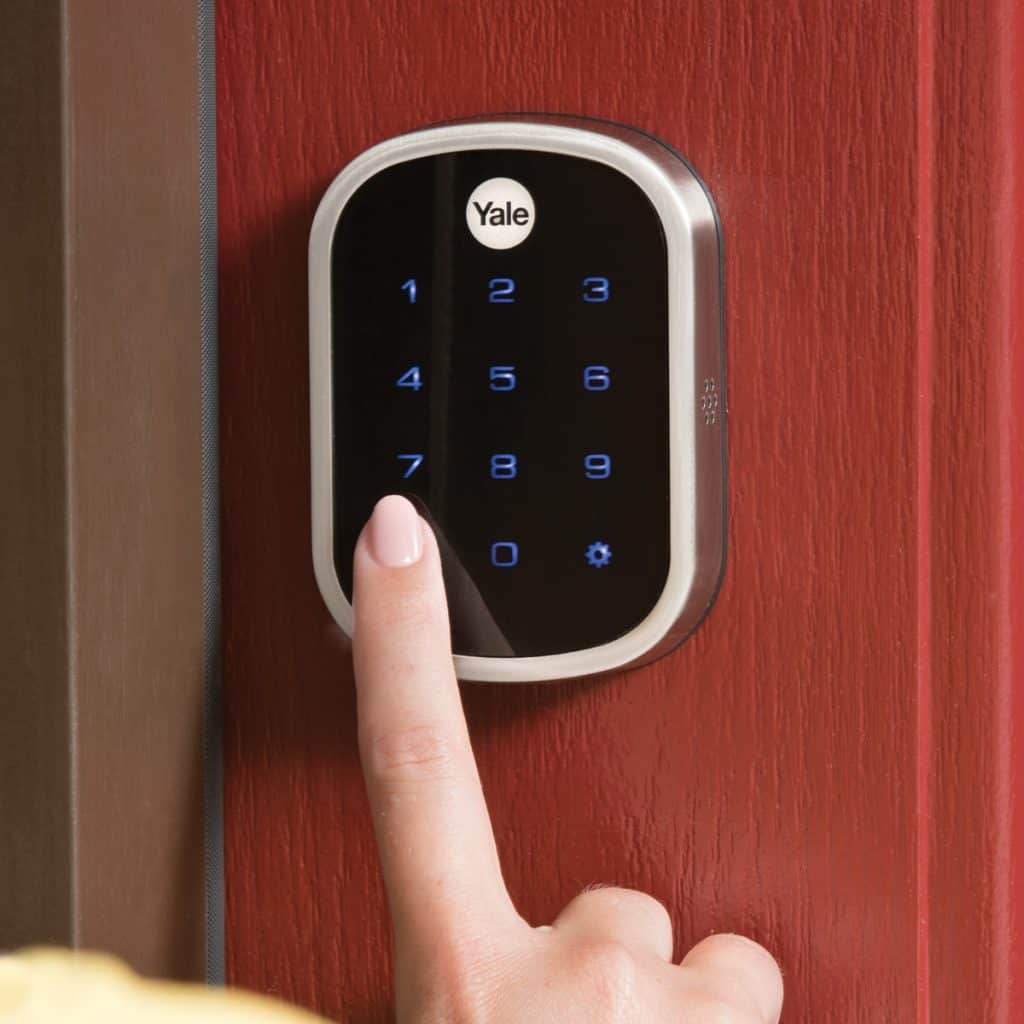 The Yale Assure SL is another popular option. It's sleek and beautiful, with three different trim options allowing it to fit in with a wide variety of exterior finishes. And it features a touchscreen that gives the lock a contemporary—and minimalist—look and feel.
However, because there is no key, you also don't have a mechanical backup in the event of a power failure. Additionally, some people report that the touchscreen is slow to wake up, meaning that sometimes it's easier to use your smartphone to control it.
With that said, Yale estimates a battery lifespan (including 4 AA batteries) to be 1 year. And this won't sneak up on you, because you'll start receiving alerts to change the batteries approximately 5 weeks before this timeframe.
What's more, if your batteries should die before you get around to changing them out, a 9-volt battery can provide enough power to get you in the house.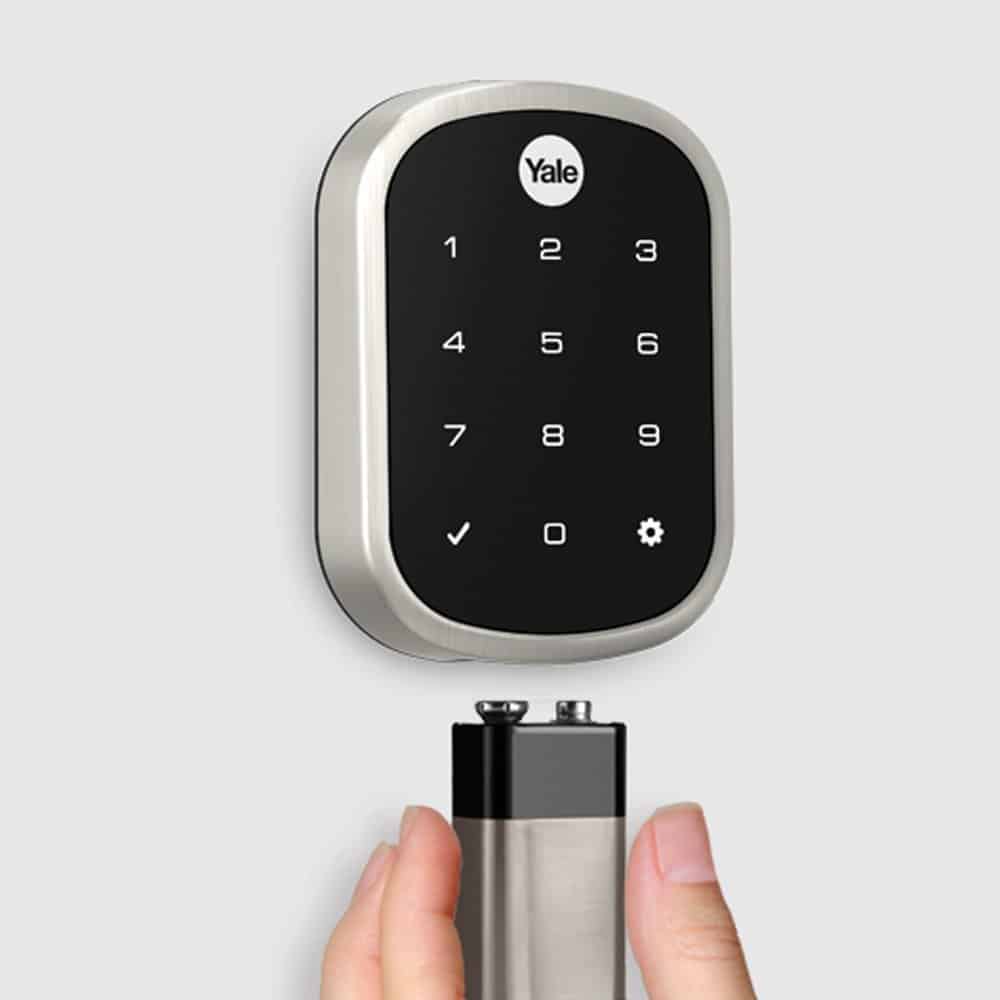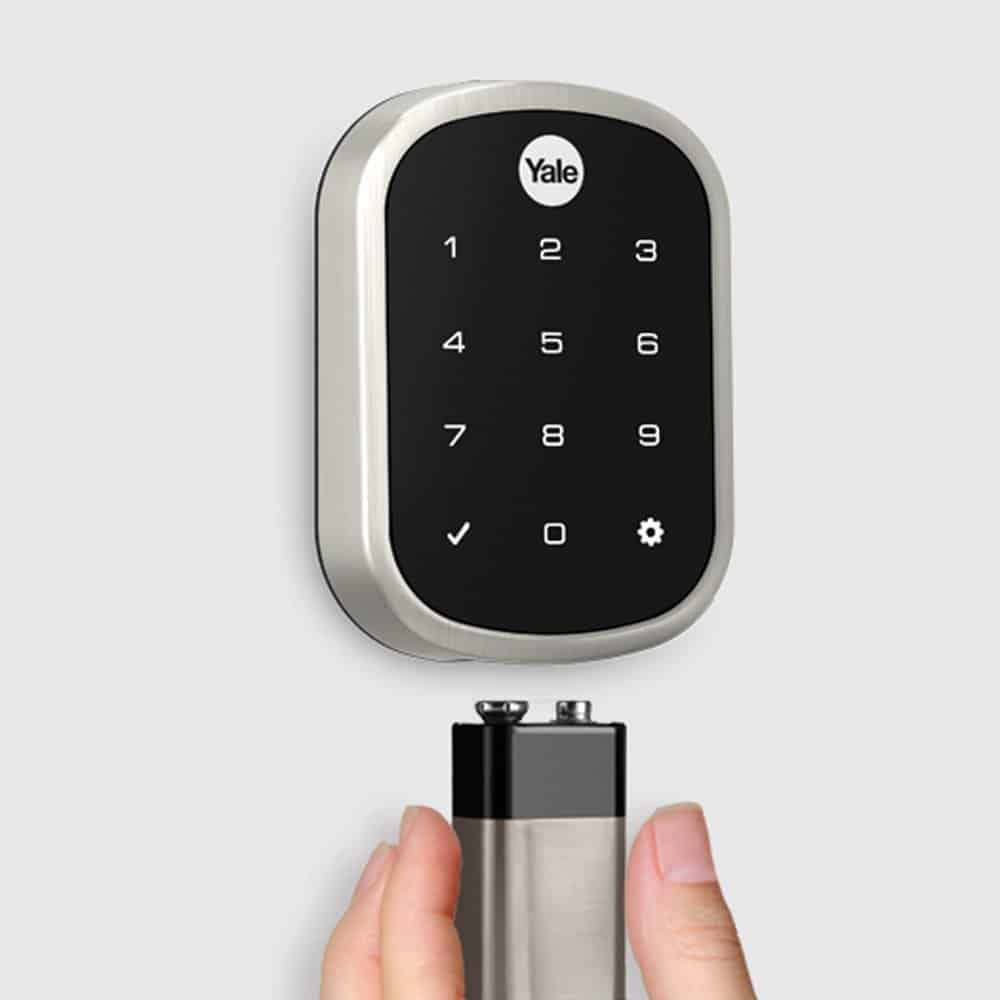 The Yale Assure comes with an August Connect component so you can connect it to both the August app and your home WiFi network. This means that it's compatible with a variety of smart home devices, including the Apple HomeKit, Amazon Alexa, and Google Home.
It allows you to store up to 50 access codes, and when you connect this to August Connect, you gain an additional 200 codes, meaning that it should work for just about any application.
In terms of installation, it is relatively easy to install, taking less than 30 minutes. If you're looking for a keyless smart lock, this is a solid option.
---
4. Kwikset Kevo 2nd Gen
The Kwikset Kevo 2nd Generation smart lock is an updated version of one of the earliest locks on the market. Once installed, it looks more or less like a standard key-entry deadbolt…until you touch it.
Once you touch it, this Bluetooth-enabled lock lights up. And if you're running the app, it'll let you in as soon as you touch it.
Although the lock no longer includes a key fob for the touch-to-unlock, you can grab one of these for $25, which you can then use in the event that your app isn't working. Batteries on both the lock and key fob should last about 1 year.
The app also allows you to set up guest access, with a few different key options. Simply provide the app information and the code to whoever you want to grant access to and their smartphone connects with the lock. It does require proximity to work though, so you must be within Bluetooth range.
A recent update to this smart lock is Alexa integration, although this requires the purchase of the Kevo hub.
Kwikset Kevo 2nd gen | Check Price
5. Gate Smart Lock (and doorbell?)
One of the biggest benefits of this option is that it's a smart lock and smart doorbell all in one, meaning you don't need to worry about syncing with your existing smart doorbell.
You can read my detailed review of the Gate Smart Lock here. However, I'll give you the basics now.
It gives you the option of using an app, a key, or a 4-digit pin to enter. Features include two-way audio, a camera, and a motion detector. Of course, if you have a storm door or screen door (like I do) that obscures the view of the camera and the efficacy of the motion detector.
The battery life isn't the best, and from personal experience, I'd estimate 2-3 months. It does allow guest access, although this is limited based on the subscription plan.
The basic (free) plan, gives you up to 4 users, real-time video streaming, and remote locking and unlocking. If you want to increase the number of users, add video storage, or arrange for scheduled guest access, you can do so with a paid subscription.
---
Final Thoughts
A smart lock is a great way to improve the way you access your home.
There are lots of great options on the market that will suit the functionality you need. The industry standard for battery life appears to range between 6 months to 1 year, although that will depend largely on usage.
In order to get started, you'll need to spend some time considering the six factors I outlined above. Once you've decided which are the most important to you and the best fit for your needs, you'll be able to compare the different smart locks on the market.