There is no shortage of smart switches and plugs available for your typical in-home application. There's probably 100 different brands, and if you look, you should be able to find just about any feature you could want.
However, your average smart switch can only handle somewhere between 10 and 15 amps of electrical current. That's fine for switching a few lamps or even a coffee maker. But if you want to do some heavy duty switching (for example, an electric garage heater or a pool pump), you'll need something more.
| Image | Title | Price | Buy |
| --- | --- | --- | --- |
| | GE Z-Wave Plus 40-Amp Indoor/Outdoor Metal Box Smart Switch | | Buy Now |
| | Aeotec Heavy Duty Smart Switch, Z-Wave Plus, 40 amps | | Buy Now |
| | Migro Outdoor Smart Wi-Fi Outlet Box, Heavy Duty 30A | | Buy Now |
| | WiOn 50054 Outdoor Wi-Fi Smart Box | | Buy Now |
Product prices and availability are accurate as of the date/time indicated and are subject to change. Any price and availability information displayed on [relevant Amazon Site(s), as applicable] at the time of purchase will apply to the purchase of this product.
Prices pulled from the Amazon Product Advertising API on:
---
---
What to look for
You might think that a switch is so simple that any one will do. But for heavy duty applications, there's a few features that can make the difference between a long-lasting solution, and a piece of junk that gets replaced in 3 months.
Load Capacity
This is likely the reason you are here. Standard smart switches can only handle at most 15 Amps. The switches I found can handle between 30-50A.
How do you know how many amps you need? If the Amps are not listed on your device, you can easily calculate it using a fairly simple equation called Ohm's law:
Current (Amps) = Power (Watts) divided by Voltage (Volts)
For example, I have a 5000W heater connected to a 240V outlet in my garage. The current required by my heater is:
5000W / 240V = 20.83 A
---
Room for wires
Wires for heavy duty applications need to be thick. The low gauge, stiff wires can be difficult to route in small spaces. Therefore, ample room to work inside the enclosure can be a big plus, especially if you need to connect more than one device.
---
Weather protection
Lots of applications for these switches require installation outdoors or near water. Therefore, a waterproof enclosure is ideal. Of course, "waterproof" doesn't always mean waterproof so enclosures are rated using the NEMA and IP systems. For example, the GE switch below is rated NEMA 3R and the Aeotec switch is rated IP44.
---
Signal strength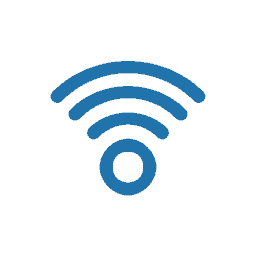 The use for these switches is often outdoors or in a garage which means it might be far from your smart home network's range. If you plan on needing a long range with your switch, the Aeotec switch advertises the longest range with up to 500ft (line of sight).
---
Wireless protocol
As with any smart home device, the smart switch needs to communicate wirelessly with your smart home network. Of the switches listed below, two use Z-Wave which requires a Z-Wave compatible hub (like Samsung SmartThings). The other three use WiFi which only requires a standard home WiFi router.
---
App quality
If your switch uses WiFi, it will require its own app. The app's integrations will determine whether you can connect your device to the rest of your smart home. Of the three WiFi devices listed, the Migro switch has the most stable app. It uses the eWeLink app which is the default app used by Sonoff devices.
If you have a Z-Wave switch, the device will not have its own app. In that case, the switch will be controlled by the app that comes with your Z-Wave hub.
---
Manual override
Many smart switches include a button on the switch that lets you manually switch the load on/off.
The GE switch has a button conveniently located on the outside of the enclosure. The others have one too, but its on the inside of the enclosure.
---
Voltage
In the US, a standard household outlet voltage is 120V, but most heavy loads use 240V. Some industrial locations use 277V/480V.
Each switch I found can be used with 120-277VAC.
---
5 Heavy duty smart switches
It took some digging, but I found several smart switches that can handle heavy loads available on Amazon.
Normally I do my research and only list the best products I can find. However, in this case, I could only find a few heavy duty smart switches so I decided to list them all.
Full disclosure: I haven't used any of these devices personally but I have researched the product info and any available user reviews. For now, instead of buying one of these finished products, I decided to go the DIY route (see my step-by-step tutorial).
---
GE Enbrighten Plus Heavy Duty Smart Switch
The GE Enbrighten Plus line is a series of smart switches that use Z-Wave Plus. It's capable of switching up to 40A (11000W @277V). This GE switch and the Migro switch (below) are the most robust of the switches I found.
The electronics of the GE switch are housed inside a weatherproof (NEMA 3R) lockable metal enclosure. It has a manual switch on the outside of the enclosure.The wire terminals are robust and built for low gauge wiring. There's plenty of room to route wires and hook up more than one device if necessary.
It uses Z-Wave Plus technology to connect to your Z-Wave hub. From there, you can turn the switch on/off and monitor energy usage. The external antenna is capable of transmitting the Z-Wave signal up to 150 feet.
GE Enbrighten Plus Heavy Duty Smart Switch | Check Price
---
Aeotec Heavy Duty smart switch
If you've done any home automation with Z-Wave, you've probably heard of Aeotec. They are well respected within the community and sell a full line of switches and sensors.
Their heavy duty smart switch is rated for 40 amps and comes inside an IP44 enclosure.
The enclosure is smaller and not as robust as the GE switch. Low gauge wires required by 30-40 amp loads may be difficult to work with due to limited space, especially if you want to connect more than one device.
It features a Z-Wave Plus radio with a long range antenna (up to 490 feet). This has the longest range of the switches I found.
Using your Z-Wave application, you can switch the power on/off and also monitor power consumption.
Like the GE switch, it includes a manual switch , but this one is on the inside of the enclosure. So, in order to use it, you'll have to open the enclosure.
Aeotec Heavy Duty Smart Switch | Check Price
---
Migro Outdoor Heavy Duty Smart Switch
Migro is a wireless controls and automation company. Most of their products are aimed at industrial applications. This heavy duty smart switch is made for residential users, but it looks like it has the robust quality required for industrial use.
Again, I haven't actually used it, but from the image it appears to be a heavy duty, waterproof (NEMA 4), lockable enclosure with a 30A switch. There's a manual override (dial) on the inside of the enclosure. There is also lot's of room for wiring to connect multiple devices.
It uses WiFi and connects through the eWeLink (same as Sonoff) app.
In addition, it features a modular design that allows you to add higher capacity contactors (up to 100A) in case you need more power.
Migro Heavy Duty Smart Switch | Check Price
---
WiOn and DEWENWILS Heavy Duty Smart Switch
These two switches work with WiFi as well. They appear to be the same piece of hardware sold by different brands. They also run on two different apps, but the apps appear to function basically the same.
Judging by the reviews, there may be a problem with quality. Multiple reviewers complained of their devices failing after a few months of use.
The WiOn model uses the WiOn app. The app allows you to setup schedules based on time, vacations, and sunrise/sunset. WiOn also sells other outdoor smart switches that can be controlled from the same app. That way you can have all your outdoor lights, pumps, and heaters controlled from one app.
The DEWENWILS model uses the ECO Plugs app. It has a different color scheme and branding, but the function appears to be nearly identical to the WiOn app.
WiOn Outdoor Wi-Fi Smart Box | Check Price
DEWENWILS Outdoor Smart Wi-Fi Outlet Box | Check Price
---
Final Thoughts
The GE switch has a high-quality enclosure and robust components. It's a better Z-Wave option than the Aeotec if you need to install multiple devices.
For long range applications, the Aeotec is tops, but its questionable build quality may make for a difficult installation.
The Migro is the best option for WiFi. The option to easily upgrade to higher output makes it ideal for loads greater than 40 Amps.
The last two on the list cost the least but the quality of the components may be somewhat suspect.