If you've ever wished you could control your air conditioner from the convenience of your phone, smart AC controllers are here to save the day. They give you the tools to manage the temperature of your home, whether or not you're there.
However, there are a wide variety of these smart switches on the market, and it's tough to know which features are important and why.
Here is everything you need to know about choosing the best smart air controller, plus five reviews of the best options available. In no time at all, you'll be ready to make your air as smart as you are.
| Image | Title | Price | Buy |
| --- | --- | --- | --- |
| Top | Sensibo Sky Smart Air Conditioner Controller | | Buy Now |
| Top | Cielo Breez Plus, Smart Air Conditioner Remote Controller | | Buy Now |
| Top | Cielo Breez Eco, Smart Air Conditioner Remote Controller | | Buy Now |
| Top | Ambi Climate 2 AI Powered Smart Air Conditioner Controller | | Buy Now |
| Top | AirPatrol WiFi Smart Air Conditioner Controller | | Buy Now |
| Top | Tado Smart Air Conditioner and Heater Controller | | Buy Now |
Product prices and availability are accurate as of the date/time indicated and are subject to change. Any price and availability information displayed on [relevant Amazon Site(s), as applicable] at the time of purchase will apply to the purchase of this product.
Prices pulled from the Amazon Product Advertising API on:
---
What is a smart ac controller?
A smart ac controller gives your "dumb" air conditioner brains. Using infrared technology, it connects with your air conditioner unit and allows you to add smart controls.
They often connect with your existing smart home technologies and devices to upgrade your appliances, without buying all new air conditioning units. It works on any ac units that work with a remote, including window units, portable air conditioners, and mini splits.
However, if you have a central forced-air system, you'll want to get a smart thermostat, like Nest or Ecobee, instead.
---
How does a smart ac controller work?
A smart ac controller mimics the infrared signal from your air conditioner's remote while using your WiFi network to connect with an app on your phone.
The end result is that you can control your air conditioner from the convenience of a mobile app. And better yet, some even connect with your existing smart home integrations, giving you whole-home control.
---
Can't I just buy a cheap IR repeater to do the same thing?
The short answer is yes, sort of. You could use something like the Bond controller. However, there are limitations to using a simple IR repeater. A smart AC controller gives you an app that is specifically made to control an air conditioner with nods to temperature, mode, and fan speed.
So if you were to use a simple IR repeater, you would need to build a custom program for each function you need. This might be appealing to those who are technically inclined, but most people want fast and easy.
And not only is a smart ac controller made specifically for air conditioners, it also makes set up more user-friendly, and most of them come with great customer support and troubleshooting.
What's more, these smart controllers also include a built-in thermostat and humidistat to give you real-time information on conditions in your room.
---
Does the smart controller sync with the remote?
This is not a question with a straightforward answer, because your smart AC controller only allows one-way communications.
Your controller can send a signal to your air conditioning unit, but the ac unit cannot respond. That means that your controller doesn't receive information on what your air conditioner is doing at any given time.
For example, you can direct your controller to turn on your air conditioner. However, if someone walks by and manually pushes the off button, your controller will not get any notifications that your ac unit is no longer running.
The reverse is also true.
When someone manually turns on the ac unit, the controller will not know that it's running. As you might imagine, this sort of "information disconnect" can cause problems with automation and can affect the climate in your home.
There's good news though. There's a solution, and it's quite simple. Ditch the manual controls completely. Instead, only use your smart ac controller to adjust the settings of your air conditioner and you won't have these issues.
What about when I use remote controls?
Depending on what type of controller you decide on, you may have similar issues with using the manual remote control. However, some controllers, like those made by Sensibo and Cielo, are remote control-friendly.
In fact, this feature is part of what makes models like Sensibo and Cielo so popular. These controllers can detect the infrared signal your remote sends to the air conditioner.
That means they can keep track of each time you push a button on the remote and know what your air conditioner is doing. This makes it much easier for you to have a smart and automated home.
With a little planning and automation, a determined smart home user could solve the problem of one-way communication with your cooling system.
While true synchronization may not be possible, it's worth considering a solution like plugging the air conditioner unit into a smart plug with energy monitoring. This would allow you to quickly (and easily!) check to see if the system is in use.
---
Smart home integration? IFTTT, voice control, smart hub
Smart ac controllers are compatible with lots of smart home automations. So, if having a smart home is important to you, you'll definitely want to choose a model that works well with your smart home setup.
Many smart ac controllers can tell whether or not anyone is in the room. This is called geofencing, and it's an especially great feature for large, frequently used areas like your living room or great room. Based on whether the room is in use, you can set your controller to automatically turn the ac unit on or off.
Another great option is the ability to set a schedule that tells your cooling system when to turn on and off. This is ideal for spaces like your bedroom or home office.
On top of that, your smart home integrations may even allow you to set up specific routines at different times of the day. Great examples might be turning your cooling system on or off as part of either a "wake up" or "goodnight" routine.
In my house, I have a window ac unit in my office. I use an ac controller with a motion sensor to turn my air conditioner on and off based on when I'm working. If you spend some time thinking about how you use each room, you'll quickly determine what type of schedule or automation works best.
---
Do I need a controller for each ac unit?
Yes. If you have multiple air conditioner units, you'll need a controller for each one. And because both the controller and the remote use infrared technology, they work by using line-of-site.
So each controller will need to be in direct view of your air conditioner. But there are several different options for setting them up, including attaching them to a wall or setting them up on a stand. You can customize how you set them up based on what works best for your space.
---
5 Smart Air Conditioner Controllers
Sensibo Sky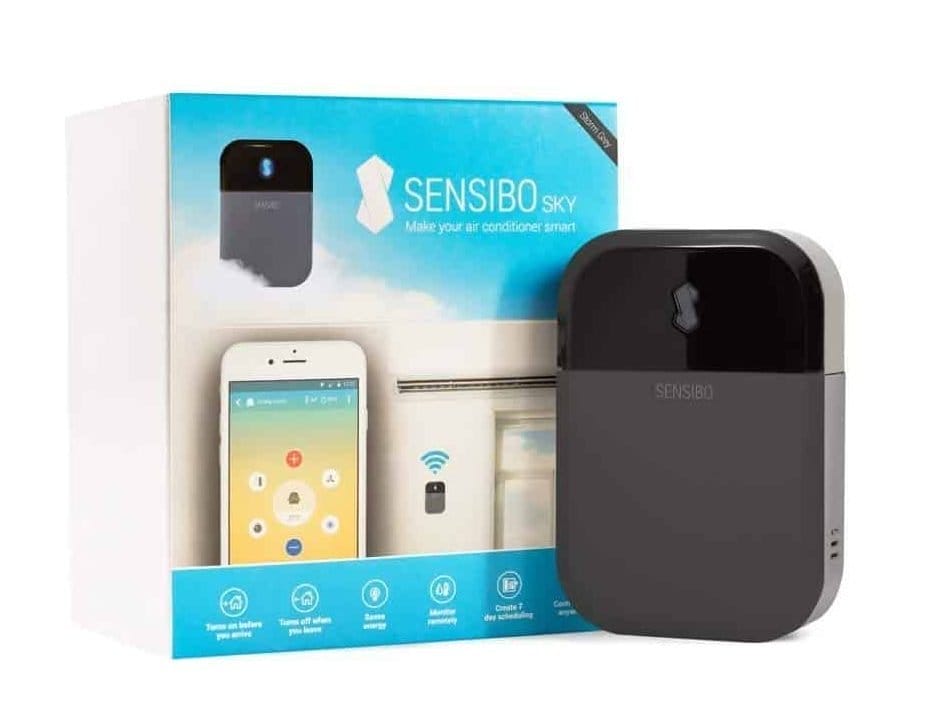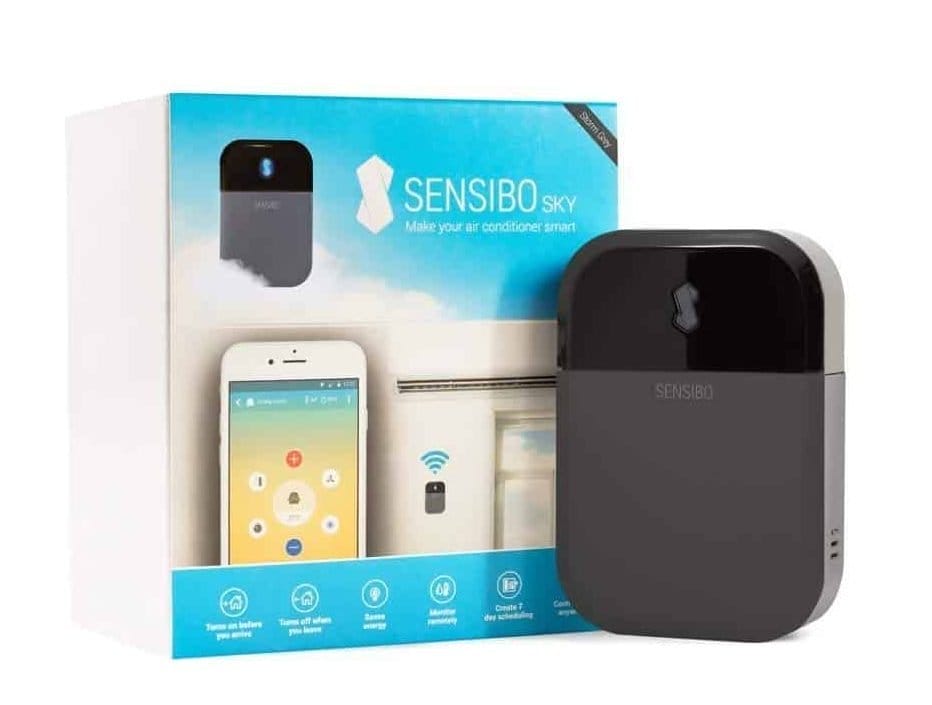 There's a reason that the lightweight Sensibo Sky is one of the most popular smart ac controllers and consistently receives high marks.
Because it has an open API, Sensibo also has a lengthy list of integrations, including Samsung SmartThings. If your smart hub model is supported, setup will be fast and easy, likely taking less than 5 minutes.
If for some reason your smart hub isn't supported, you can reach out directly to Sensibo support. They're more than likely going to be able to find a solution for you.
What's more, the Sensibo Sky also connects with Amazon Alexa and Google Assistant. To connect with either of these, all you need to do is tell your device to learn the skill.
You'll be cooling your heels in no time!
Sensibo's app also works with either Android or iOS, meaning that it works with most phones. This is important because the Sensibo sky is so small it doesn't have space for buttons or a physical screen, and you must use their app in order to communicate with your cooling system.
However, the small size is not a drawback. Because the Sensibo Sky weighs in at 1.4 ounces (approximately the size of a business card), it's discreet and easily mounts to your wall.
Other high points of the Sensibo are that it also supports a wide variety of options for customizing how it works for you. You can set up geofencing so that your cooling system only runs when the room is in use.
It also allows you to define schedules so it runs during the times you are most likely to use a space. So if you usually use a specific room every day from 3-10 pm, you can set up your ac unit to run during those times.
The Sensibo Sky also has a nifty Climate React Mode that uses both heat and humidity to determine the comfort level in your home. Based on that info, it turns on your ac as needed to maintain your perfect temperature. If the humidity rises sharply and your home feels hotter than normal, your cooling system will kick in.
Although it doesn't monitor the energy use or have a motion sensor, this small controller does give you real-time readings on room temperature and humidity levels so you can keep an eye on things from wherever you are.
---
Cielo Breez Plus/Eco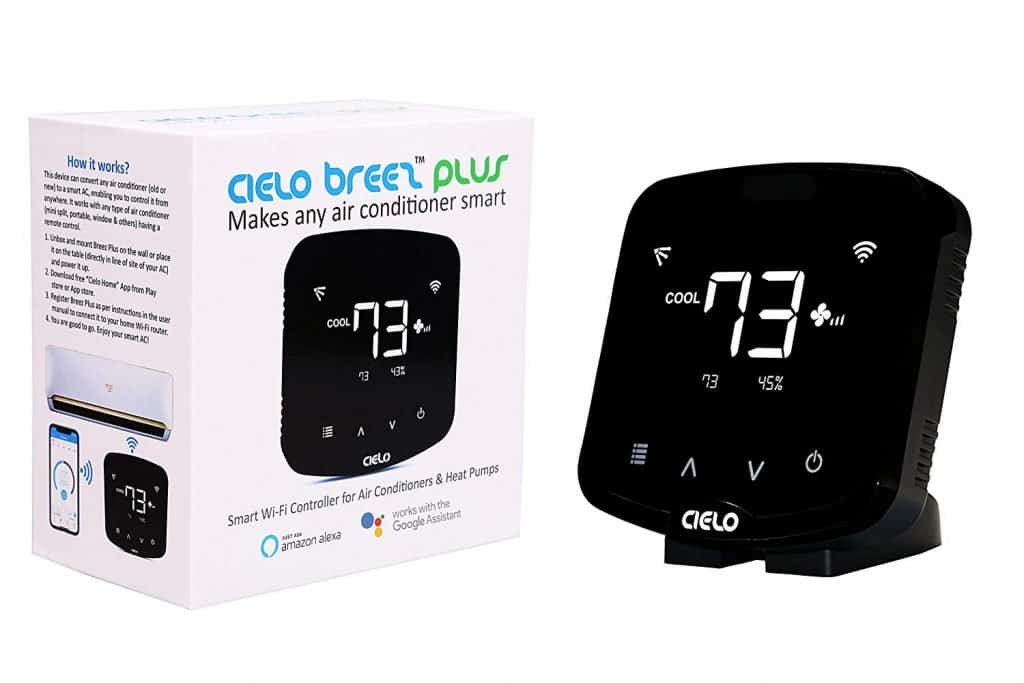 Two of the newest kids on the block are Cielo's Breez Plus and Breez Eco. The Plus is incredibly robust and can be installed on a wall, while the Eco gives you a great bang for your buck, coming in at half the price.
The Eco, like the Sensibo Sky, requires exclusive app use, since there is no readout on the physical unit. It can mount to the wall, but where Sensibo's Sky mounts via a sticky back, the Eco needs screws to be placed. This makes installation not quite as quick, but it's easier to move the unit around if needed.
The Plus takes the Eco's smart ac game to the next level and acts more like a thermostat. It has 4 physical buttons that turn your cooling system on and off and turns your temperature up and down.
If you want a physical display on your controller, you'll love this unit. It gives you a readout of current temperature, set temperature, and humidity levels in the room.
Both of these units use the same smartphone app, so in theory, you could use a mix of the two depending on your needs for each room.
On top of that, Cielo also has a web-based app you can access from any computer. Although you might not be wowed by the design of the interface, you'll appreciate how easy it is to use.
You can also easily add new devices and control them at the same time. Equally important, Cielo's app team regularly updates the software to ensure that it's current and bug-free.
One of the things I like best about Cielo is its long-term tracking options. You can compare your ac usage over time to track trends, but also to make sure everything is working correctly. And in case you also want to monitor how well the app is working, you can easily pull up the log of every command your controllers send to your cooling systems.
One of the biggest differences between the Cielo controllers and the Sensibo Sky is that Cielo's products do not integrate with your smart home hub.
For most people, this isn't a dealbreaker, but it does mean one more step. It also means your air conditioner smart functions must work independently of any other automated systems.
Ceilo Breez Plus | Ceilo Breez Eco | Check Price
---
Ambi Climate 2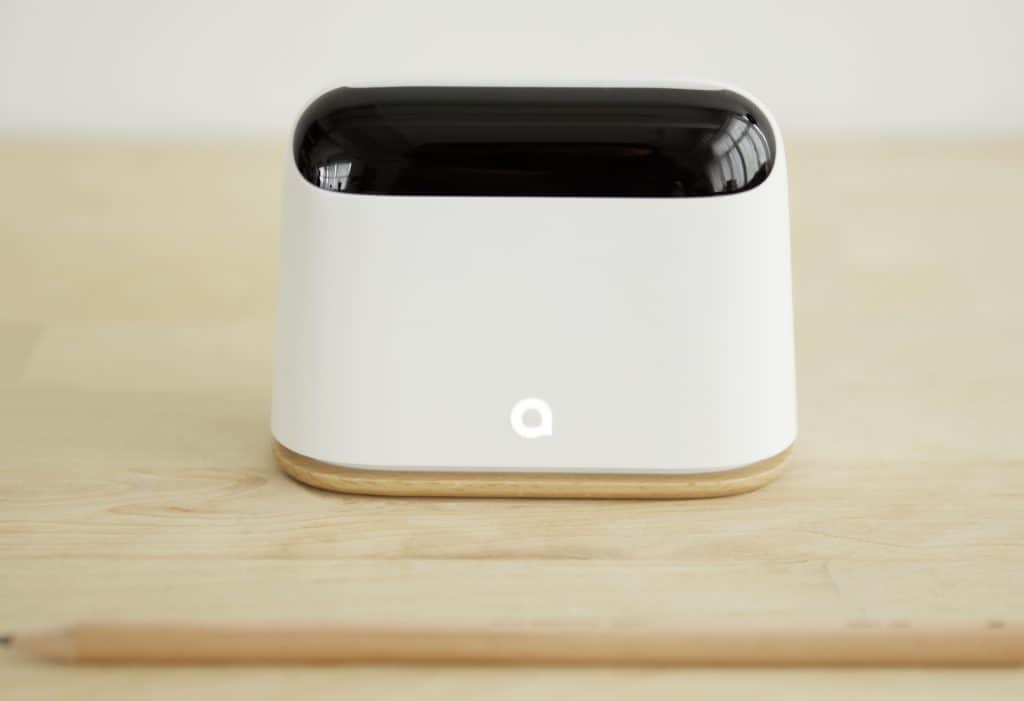 This smart ac controller is an up-and-comer to the market.
The pros? It has an ambitious plan with lots of great features…if they can work out all the kinks. Unfortunately, however, there are lots of reports of inconsistent performance.
Like the Sensibo Sky, the Ambi Climate 2 uses open api and can work with several integrations, including Amazon Alexa, Google Assistant, and Apple's Siri. However, Ambi takes it a step further and uses a combination of machine learning and user feedback to create a highly personalized experience and profile for you.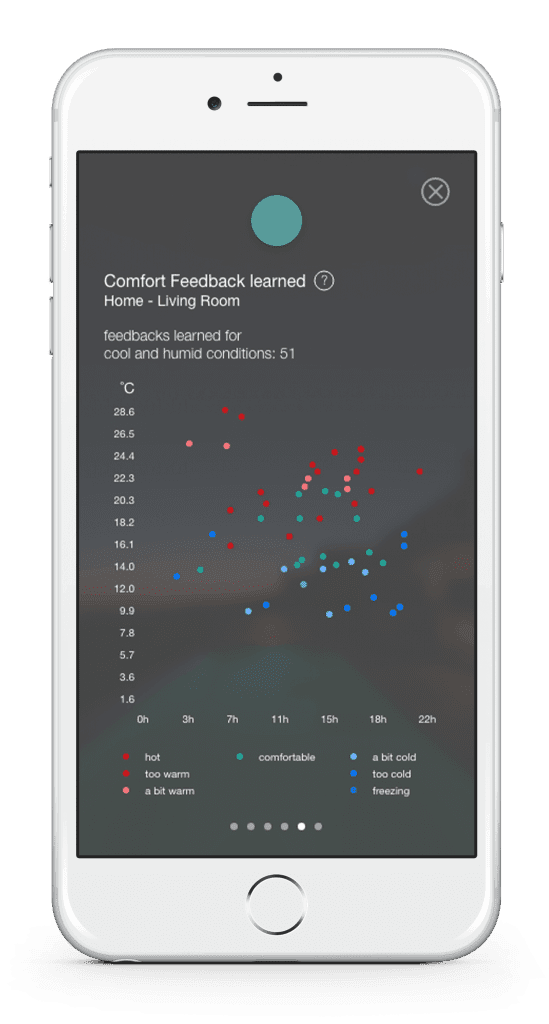 This is a really great idea because it takes into consideration a boatload of factors to make you as comfortable as possible. In addition to temperature, it also measures humidity and uses weather data to predict what you are probably wearing.
If that isn't cool enough, it also factors in time of day in order to account for your metabolic cycle and how hot or cold you may be feeling as a result.
Once the developers can make this work smoothly, this model has a great deal of potential. But, users continue to report quite a few bugs.
Another drawback? With all the sensors and data, I'd like to know why the Ambi Climate 2 does not include a motion sensor. A simple PIR motion sensor would be great for small room occupancy detection and really improve the overall functionality.
And while all of these options only work with ac units that have a remote, this unit also requires that the remote has an LCD screen. So if your air conditioner remote doesn't have this type of readout, you'll need to choose another option.
---
AirPatrol WiFi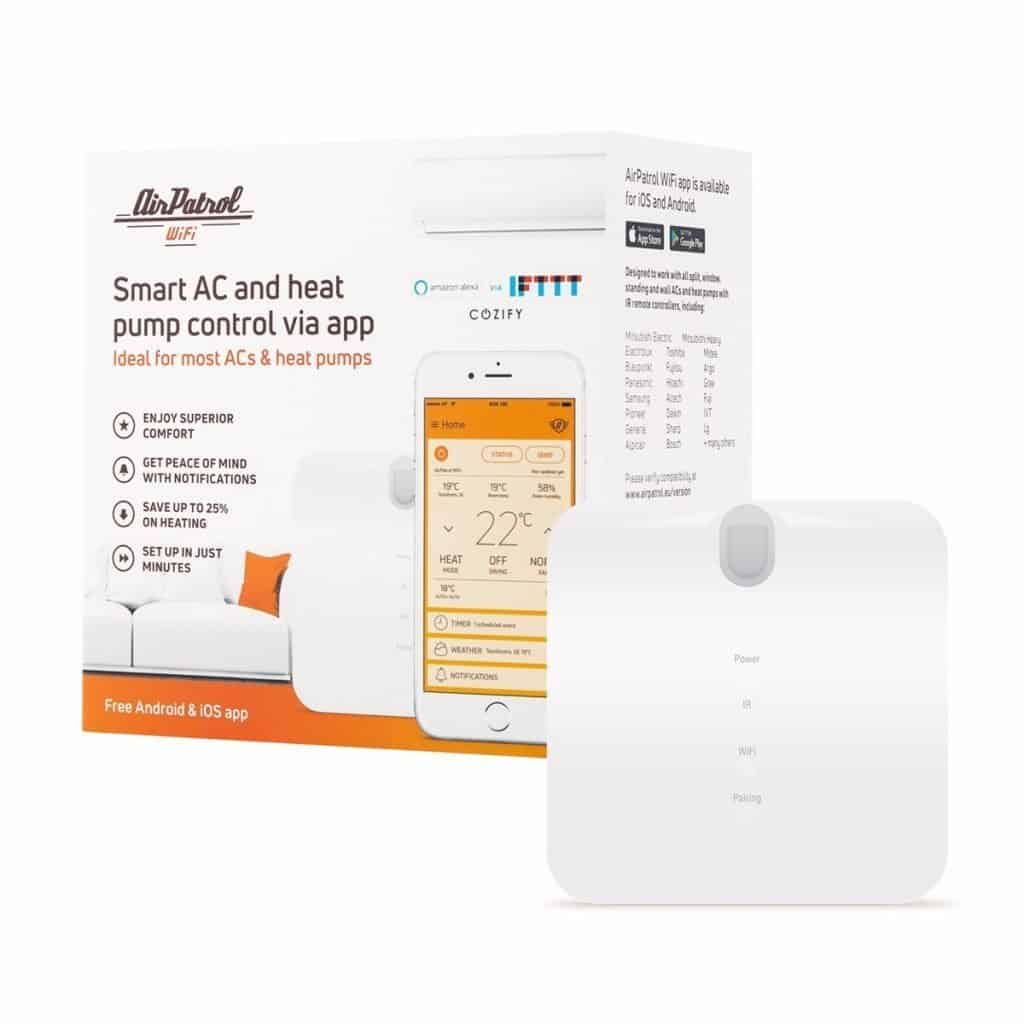 Based in Europe, the AirPatrol Wifi smart ac controller is another popular option. It also works with both Android and iOS systems.
With quick and easy setup, it's easy to use for people with basic technological skills. And, equally important, users report that AirPatrol's support is responsive and their app offers regular updates.
As with the other options, AirPatrol works well by helping you reduce cooling costs and keeping a virtual eye on the conditions within your home.
---
Tado Smart AC Controller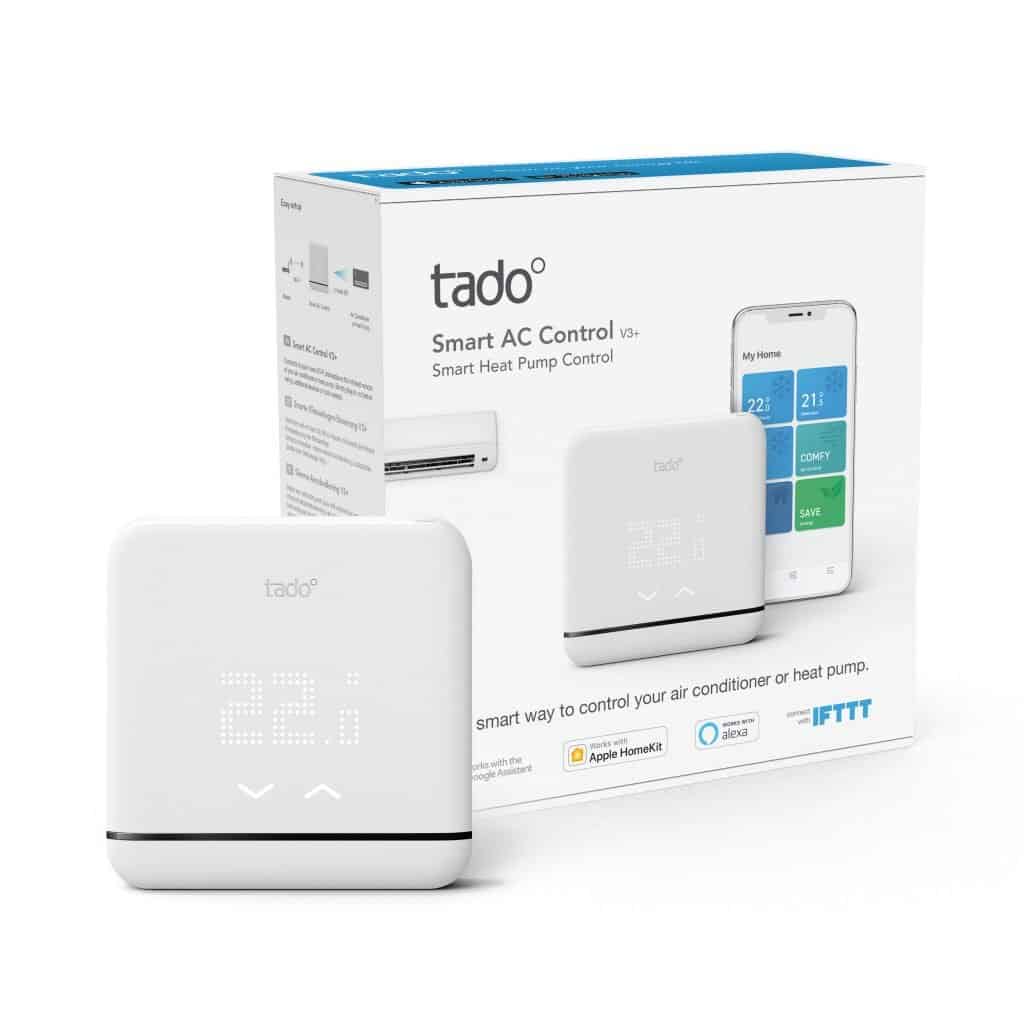 Rounding out the top 5 options is the Tado Smart AC Controller.
Slightly more expensive than the Sensibo Sky, it also has a motion detector to help identify when a room is in use.
However, the Tado also has the poorest reviews, especially relating to the software. Plus, it's only compatible if your remote has a screen that tracks fan speed, mode, and temperature settings. These negatives mean that this model might not be your best option.
Tado Smart AC Controller | Check Price
---
Final Thoughts
Ultimately, smart ac controllers are a temporary fix to bridge the gap between old appliances and new smart technology.
Before long, most new appliances will ship with integrated WiFi, eliminating the need for these smart controllers.
This is especially true since one-way communication between the controller and the cooling unit is a limiting factor. However, before they go the way of the dodo bird, they are a good way to bring your home into smarter territory without buying all new appliances.