If you have switch boxes with no neutral wire, the vast majority of smart switches won't work for you. However, there are a handful that are designed specifically for that purpose. I scoured the internet and found the best ones.
---
---
Best No Neutral Smart Switch
This is a much bigger list than I usually make. Typically, I only recommend a couple of the best options. However with smart switches, there are so many options. Hopefully, you can find at least one smart switch on this list that has the right appearance, the right price range, and the right wireless protocol.
---
What to look for when buying a no neutral smart switch?
When buying any smart switch or dimmer, you are probably looking for the right look, the right wireless protocol, and the right price.
In addition to all the normal deciding factors for a smart switch, some additional things to watch out for when buying a no neutral smart switch are as follows:
Limited features
Some of these smart switches can work with, or without a neutral. When using them in no neutral mode, some features may not work. For example, the Inovelli switches have a power monitoring feature that works when a neutral is connected. However in no neutral mode, the power monitoring feature does not work.
Bypass resistor, capacitor
Some no neutral smart switches require an additional part (usually called a bypass resistor or capacitor) in order to work with low power lights. This potentially adds an additional cost and an additional step in the installation process.
Typically, the manufacturer will list the minimum power required for the switch to operate effectively, and at what point the bypass will be required.
Ground Wire
Some of the no neutral smart switches require a ground wire. Therefore, if your electrical box lacks a ground wire too, those switches won't work for you.
---
No Neutral Smart Switch Reviews
Best for Whole Home
Very responsive and reliable ClearConnect wireless
Exceptional dimming performance
Integrates with major smart home platforms
Will not work with smart lights
Requires Lutron Caséta smart hub
If reliability is what you're looking for, then look no further. I've been using Lutron Caséta switches for over 3 years, and I don't remember a single time when I pressed the button and the light didn't come on. I've tested a number of other smart switches, and Lutron is the only one that has NEVER failed me.
Not all dimmers are created equal, and Lutron's dimming performance is exceptional. Even with LED bulbs (must be marked as dimmable), the lights can be dimmed to almost nothing.
However, the Lutron switches are some of the most expensive smart switches. In addition to each switch being relatively expensive, you also need to purchase a Lutron Caséta Smart Hub. If you don't already have the hub, you can save a little money by buying a starter kit bundle which includes the Lutron hub along with a couple dimmer switches.
Also for no neutral circuits, make sure you get the Lutron Caséta dimmer switch (product number: PD-6WCL). The Lutron Caséta on/off switch (product number: PD-6ANS) WILL NOT work with no neutral.
Lastly, some people are not big fans of the button layout on the Caséta switches. It's a non-standard look, and the buttons are flush with the surface which doesn't provide great tactile feedback. To address those problems, Lutron created the Lutron Caséta Diva smart switch (check price). It includes all the great features of the Caséta line, but features a more standard looking rocker style switch.
---
Great All-Around Option
Easy setup - No hub required
Low power light adapter included (no bypass resistor needed)
Works with C by GE smart bulbs for integrated color lighting
Optional motion activated switch also availble
The GE Cync switches are a great all-around option. They are easier to setup than Z-Wave or Zigbee options and cost less than Lutron.
They connect directly to your WiFi router so there's no need for an additional hub. In addition, you have the option to install Cync smart bulbs in your fixture to add color lighting to your system.
You can choose from an on/off switch, a dimmer switch, and even a motion-activated dimmer switch. Make sure you get the switches labeled "3-wire switches", not "4-wire". If you follow my links it will take you to the correct model.
Each switch comes with a bypass adapter for low power bulbs, which is both convenient and cost-saving. It simply screws into the socket before the bulb. The only negative is that it adds an extra inch or two of length to the bulb which could cause problems in an enclosed area.
The C by GE switches will integrate easily with Google or Alexa, but they don't play nice with more advanced hubs like SmartThings or Hubitat.
---
Best for Zigbee
Works with smart bulbs
Supports multi-tap scene functions
Use Zigbee binding for nearly instant (hub-free) communication between devices
Uses Zigbee 3.0 (upgradeable to Matter) - Requires hub
Requires bypass for loads under 25W
If you are a die-hard home automation geek, this is the Zigbee switch you want (for Z-Wave, see Inovelli's Red Series below).
The setup requires a Zigbee hub and a bit more configuration than the Lutron or Cync systems, but these Inovelli switches are way more powerful from a home automation standpoint.
This switch is packed with features. You can use it as either a switch or a dimmer (hence, the 2-1 name). You can control multiple scenes (up to 21), smart bulbs, and even use the onboard LED strip to create custom smart notifications.
NOTE: These do require a capacitor (Aeotec Bypass) if you use them with no neutral and the load is less than 25W. Most single LED bulbs are under this threshold. Also, the power monitoring feature will not work when installed without a neutral.
---
Low Cost
On/off only - no dimming
5W minimum load - no bypass required
No hub required
Check Moes website for bulk discount
This simple on/off switch from Moes works with no neutral and does not require an additional capacitor for low loads. It works with loads as small as 5W all the way up to 450W for LED (800W for incandescent).
Unlike previous versions this model does NOT have the ugly "MOES" proudly painted on the front of the switch. Instead, it's a clean white surface.
For better or worse, it uses the Smart Life app. It's very reliable and widely compatible with lots of other low-cost smart home devices. However, if you are the type of person that gets concerned when an app starts asking for excessive permissions, you may want to steer clear of it.
You can buy most of Moes products on Amazon. However, I highly recommend checking out their website, especially if you plan to buy in bulk. This is because they frequently offer discounts on bigger orders.
---
Z-Wave
Narrow and shallow dimensions - fits electrical boxes even in multi-gang boxes
Minimum load of 2W - no bypass required
Automatically detects line and load wires
This Enbrighten Z-Wave dimmer has a clean, simple look and is made to be easy to install. It's both narrower and shallower than typical smart switches so that it fits easily in most electrical boxes. Also, the SimpleWire feature makes it virtually impossible to wire incorrectly. Lastly, the Enbrighten no neutral dimmer does NOT require a capacitor for small loads. It will work with dimmable LED lights as low as 2W.
However, if you're looking for advanced automation features, the Enbrighten dimmer is limited. You should look at the Homeseer or Inovelli switches instead.
To make sure it works with no neutral, be sure to get the specific model number 52252. The other models look nearly identical, so it's easy to buy the wrong one if you're in a hurry. Also, it's worth it to make sure you get the 700S version which uses the 700 series Z-Wave chip instead of the 500S which uses the 500 series chip. It only costs about $5 extra.
---
Z-Wave
May be configured as a dimmer or on/off switch
Works with smart bulbs
Program scenes to multi-tap (up to 14 scenes)
Customize onboard LED strip function
Requires bypass under 24W
The HomeSeer Z-Wave dimmer is loaded with options for advanced home automation. In addition to requiring no neutral, you can use it with smart bulbs, program multi-tap functions, and program custom functions for the LED strip. However, it's quite expensive, and has been out of stock quite a bit lately. For those reasons, you may be better off waiting for the new Inovelli switches to ship (see below).
---
Z-Wave, Coming Soon
Uses latest 800 series Z-Wave chip with Long Range
Built for home automation geeks - works with smart bulbs and supports multi-tap scene functions
Use Z-Wave Association for nearly instant communication between other Inovelli Z-Wave devices
Requires bypass for loads under 25W
This switch has all the same great features as the Inovelli Blue series switch, except instead of Zigbee, it uses the 800 series Z-Wave chips with extra-long range capabilities.
Although I haven't got my hands on these new 2-1 switches yet, I did write up a detailed review (see here) of the previous Red Series dimmers which share many of the same features.
NOTE: Like the Blue Series, these also require a capacitor (Aeotec Bypass) if you use them with no neutral and the load is less than 25W. Most single LED bulbs are under this threshold. Also, the power monitoring feature will not work when installed without a neutral.
---
Touch Button
Anti-scratch tempered glass touch button surface
Uses WiFi and Smart Life app - No hub required
Available in 1-4 switch configurations - all 1 gang
Can also be controlled via RF remote (not included)
Included capacitor must be installed at load for no neutral operation
This is the only no neutral switch I found with a super modern looking glass surface and touch buttons. So if that's the looking you're going for, then this is your switch. It is available in 1, 2, 3, and 4-in-one switch configurations. Like the other Moes switches, it uses the Smart Life app.
---
Zigbee
Minimum load of 3W (max 600W) - No bypass required
Requires Zigbee hub
Comes in single rocker and double rocker versions
Aqara has been making long lasting, easy to use Zigbee devices for a long time. This simple Zigbee on/off switch will get the job done for no neutral applications. It works with loads as small as 3W (no additional capacitor required) and up to 600W.
Since it's Zigbee, it does require a hub. You can connect it using the Aqara Zigbee hub, but you don't have to. Just about any Zigbee hub will work.
It also comes in a double rocker version which puts two switches in a single gang format.
---
Lutron Alternative
Classic clean looking Decora trim with available color change kits
Ground connection required
No bypass required
Requires Leviton bridge (MLWSB-2RW)
Up to 300W LED or 600W incandescent
This no neutral dimmer (they also sell a no neutral on/off switch) is part of the Leviton line of Decora smart switches. The clean Decora look and simple switch design provides a familiar look and feel.
You will need to buy the Leviton bridge. The bridge is relatively low-cost and installs conveniently on any wall outlet.
The bridge connects your switches to WiFi and enables compatibility with Alexa, Google Assistant, and HomeKit.
The Leviton line is quite similar to the Lutron Caseta line. It seems to be a decent, less expensive alternative for whole home installations. However, I have found a fair amount of people complaining about Leviton switches failing or dropping connection. Whereas finding reports of Lutron switches failing is almost non-existent.
---
Alternate method - Smart Relay Switch
Keep your existing wall control
Small enough to install inside the electrical box at the light fixture
Uses WiFi - no hub required
Highly configurable using the Shelly app
This solution is a bit different than the other options, but can work just as well. In fact, for many people I think this may be the best solution.
Here's how it works:
If you don't have a neutral at the switch, then you will have a neutral at the load (light fixture).Therefore, you install the relay in the light fixture box where there is a neutral.
You can keep your existing wall switch(es).
Since the Shelly is installed with a neutral, you don't need to worry about needing a bypass for small loads.
The Shelly products are WiFi so you won't need another hub. You can choose to use them with cloud integrations or without (local control only). Additionally, the Shelly app is quite versatile. You can set the relay to work with an existing toggle switch, momentary switch, or even 3-way switches. And if the Shelly app isn't good enough for you, you can go "full geek" and install custom firmware.
---
How do you know if you have a neutral?
Here's an easy way to check:
If you open your switch box and you see two white wires joined with a wire nut (not connected to the switch), you can be fairly sure your switch has a neutral wire. You should be able to install any smart switch.
A switch box with no neutral will usually only have three wires (see image below). Two of the wires will be the current carrying wires that power the light. They will usually be colored one black and one white (potentially with black stripe or marked with black electrical tape). The third wire should be the earth ground wire and is usually colored green or bare wire.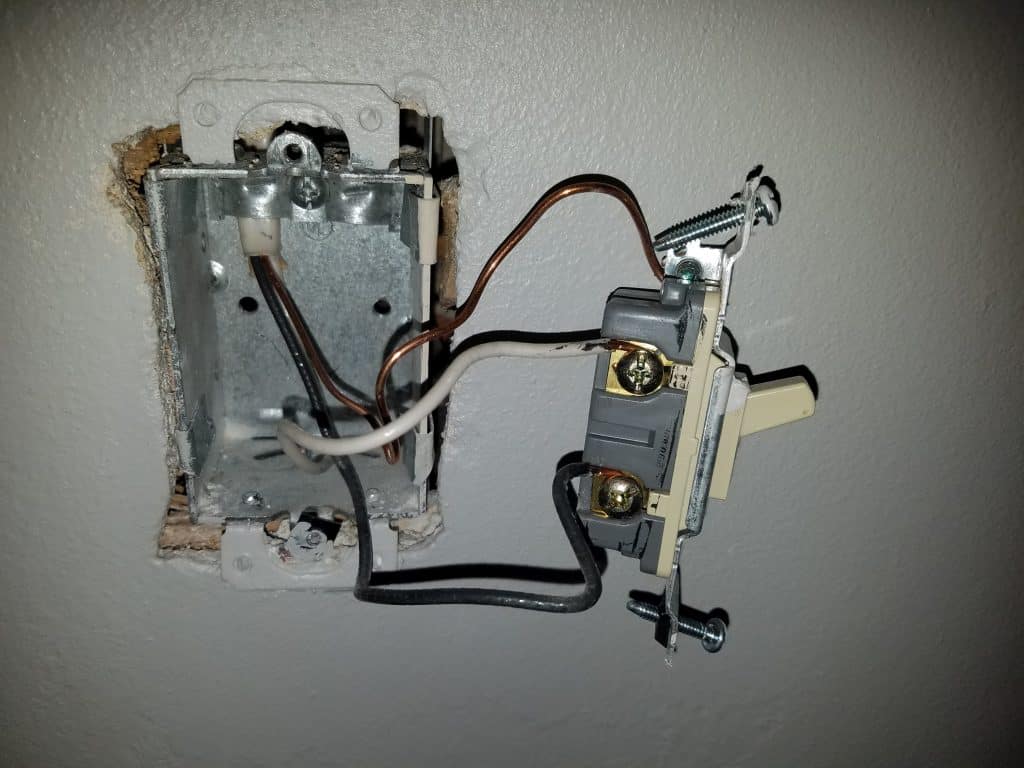 ---
Four ways to fix the "no neutral" problem
If you want smart control of your lighting, and your home has switch boxes with no neutral, you have 4 options:
1. Buy a smart switch that works with no neutral
When smart switches first came out, it was hard to find a good "no neutral" switch. But manufacturers responded to demand, and now there's a handful of good ones available.
2. Install a smart relay switch at the light fixture
In any installation, either the light switch or the light fixture MUST have a neutral wire. Therefore, if there's no neutral in your switch box, the light fixture will have one.
There are several compact smart relay switches which can fit inside electrical boxes and light fixtures. So, if you don't have a neutral at the switch, you can use one of these compact smart switches installed at the light fixture.
With one of these smart switches, the existing wall switch does not need to be changed and will continue to work.
I've used the Shelly 2 Dimmer relays and they work really well.
3. Buy smart bulbs instead
You don't necessarily need to buy a smart switch. Instead, you could buy a smart bulb.
Most home automation experts recommend smart switches over smart bulbs. But, if you want easy installation and the option for colored lights, buying bulbs could be better.
However, that introduces the new problem of figuring out what to do with the existing switch (here's some ways to solve it). When someone decides to use the wall switch to shut the light off, the power to the bulb is cut, which means it will stop being a smart bulb until you turn the switch back on.
4. Add a neutral by pulling new wires
A neutral wire can be added by pulling an additional conducting wire between the fixture and the switch. This option is probably the most work and most unnecessary.
It can be done, but pulling wires through finished walls can be a real pain, especially if you don't have the proper tools. Sometimes it might even require cutting into drywall, which then needs to be patched and painted. You could certainly hire an expert to get the job done, but it will cost you.
---
What is a neutral wire?
If you're going to be installing your own smart switches, you will be working with some potentially dangerous wires, so it's probably a good idea to know what you're dealing with so you can avoid making a stupid mistake.
In order to fully understand what a neutral wire is and why we have it, you need to have a basic knowledge of how our homes are wired.
Typical electrical transmission lines in the United States have high voltage electricity (13.2 kV which equals 13,200V!). Before the electricity can be used in your home, it needs to be converted to a lower voltage. This is done using a device called a transformer (represented by the squiggly lines in the image below).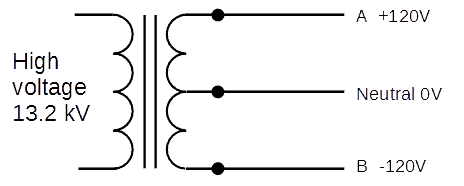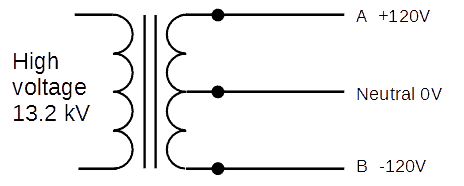 NOTE: Alternating current (AC) does not have polarity. Instead, it has phases. I used the + and – symbols to represent the different phases.
The transformer converts the incoming 13.2 kV electricity down to a usable 240V. Notice that the voltage difference from end A (+120V) to end B (-120V) of the transformer is a total of 240V.
Also notice the transformer has a line coming from the center which has a voltage of 0V. This is the neutral. Since the neutral has a voltage potential of 0, it is significantly safer to work with than the "hot" wires A and B.
Looking at the diagram above, you should be able to see there are three ways to create a circuit:
Connect A to neutral = 120V
Connect B to neutral = 120V
Connect A to B = 240V
Most wiring in your home is 120V (either 1 or 2). Certain applications that require a lot of power, such as a stove, are usually wired for 240V (3).
---
What does it mean when a switch has no neutral?
According to the previous section, every 120V circuit in your home has both a hot wire (A or B) and a neutral wire. So, how can it be that some switches "don't have a neutral"?
To HAVE a neutral, we want the line voltage to come to our switch box first. Then, from the switch box another loop goes out to the load (light bulb or whatever). The diagram below shows this configuration (this circuit HAS a neutral).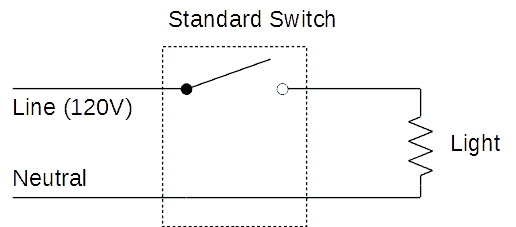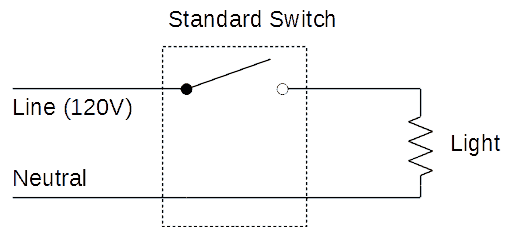 The case that everyone refers to when they say "no neutral" is when the line voltage comes to the light bulb first. Then, from the light bulb, another loop goes to the switch. This is shown in the diagram below.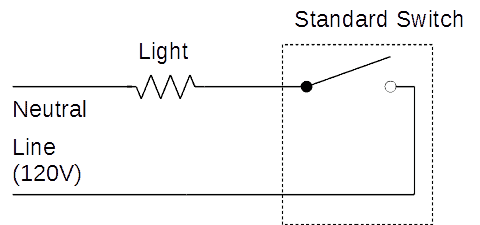 Both circuits work just fine when you only have a standard mechanical switch. However, you run into a problem when you have a smart switch.
Why is no neutral a problem for smart switches?
In the diagrams below, the dotted rectangle represents a smart switch. R1 represents the load required to power the smart switch. That means there needs to be power running through R1 at all times. Otherwise, the smart switch will be unable to power it's wireless communication.
Smart switch with neutral
Below is a diagram of a smart switch installed in the first configuration (with neutral). Notice that regardless of whether the switch is on or off, there is a clear path from line to neutral that includes R1.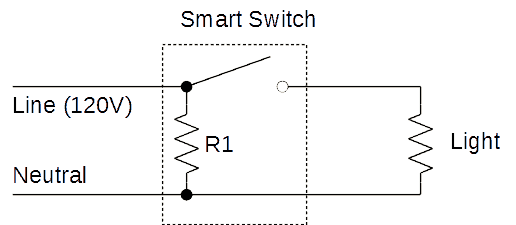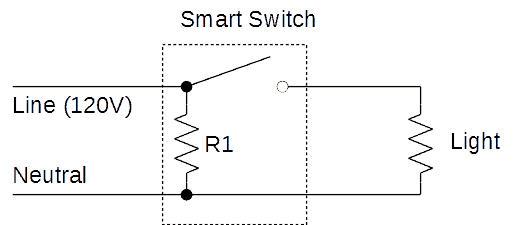 Smart switch with no neutral
Now let's take a look at the second configuration (no neutral) with a smart switch installed.
Again, regardless of whether the switch is on or off, there is a clear path from line to neutral that includes R1. However, in this case the light needs to be included in that path. That's not good because we need R1 to be on all the time but we don't want the light to be on all the time.
The key to creating a smart switch that works without the neutral loop is to make R1 the perfect resistance. R1 needs to restrict the current enough so that the light bulb doesn't turn on when the switch is off. At the same time, it needs to let enough current through so that the switch can power itself.
If it were as simple as making R1 the correct resistance to make sure the light can't turn on when the switch is off, it would be a fairly simple problem to solve. However, due to complexities caused by AC power, it's not a simple problem to solve when it comes to powering LED bulbs. That's why the options are so limited for smart switches that work with no neutral.
---
Final Thoughts
I personally am a big fan of the Lutron Caséta switches. They are well-built, extremely reliable, and offer superior dimming performance (even with LEDs). For pure lighting control, Lutron is hard to beat. However, my main problem with the Caséta switches is that they don't work with smart bulbs, and you can't program the switches to perform other home automation tasks.
The GE Cync switches offer a decent all-around alternative if you don't mind their unconventional look. In addition to being less costly than Lutron, they also work seamlessly with GE Cync color changing smart bulbs. Although the option for color bulbs is nice, you are locked in to using only Cync products and any customization is limited to only what the Cync app can do.
Therefore, for hardcore advanced home automation functionality, I look towards the Zigbee (Blue Series) and Z-Wave (Red Series) options from Inovelli. The Inovelli 2-1 switches work with any smart bulb and allow you to program scenes and activate them using multi-taps. One switch can be programmed to activate up to 21 different scenes. It would take quite a bit of configuration, but you could conceivably control your entire smart home from one light switch.
It should be clear by now that if you have switch boxes without a neutral wire, there's no need to panic. Hopefully, I was able to help you stay calm and find the smart switch you need.